The Hilarious Reason Dave Bautista Is Getting Extra Jacked For Avengers 4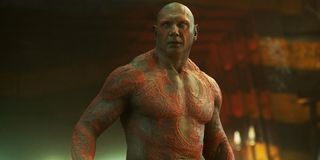 We're going to see mixed-martial-artist-turned-movie-star Dave Bautista bigger than we've ever seen him when Drax makes his post Avengers: Infinity War return in 2019's still untitled Avengers 4. In a pretty amusing case of life imitating art, the reason for a bigger Drax is because he'll be facing off against Thanos. That is, Thanos actor Josh Brolin, whose recent bodybuilding for the upcoming Deadpool 2 has him in better shape than ever. Bautista recently realized that Brolin may be in the shape of his life, and now says he is getting extra jacked for the Marvel movie, which is currently filming.
While it's always fun to see friendly competition among actors, this rivalry is particularly amusing given the characters both actors are playing in the upcoming Avengers movies. While Josh Brolin's muscles may have come about because he's playing Cable in Deadpool 2, his Thanos is the sworn enemy of Dave Bautista's Drax. In both the comics and in the Marvel Cinematic Universe, Drax has vowed revenge against the Mad Titan who took the lives of his wife and daughter. Speaking with The Hollywood Reporter, Bautista's compliments towards Brolin's impressive transformation are a lot kinder than anything we can imagine Drax saying. He also said,
Of course, Josh Brolin's new look is unlikely to have a direct effect on how Thanos actually looks in Avengers: Infinity War and its 2019 followup. The Academy Award nominee is doing performance capture for the role. Deadpool 2 is a very different story, however. In addition to matching the exaggerated muscles of Cable's 1990s comic book debut, Brolin's transformation should help to further set the distinction between Cable and Thanos. Then again, given Deadpool's fourth wall breaking quips, it's possible that we'll even get an onscreen nod to the actor's doubling down on Marvel movies in 2018.
While much of Avengers 4 remains a mystery, Dave Bautista's comments do seem to indicated that Josh Brolin's comic tyrant won't be entirely defeated in Avengers: Infinity War. What's more, Drax isn't the only Marvel Cinematic Universe hero gunning for Thanos and it remains to be seen who (if anyone) will be able to ultimately defeat him. Drax may have a very personal vendetta against the villain, but so does Karen Gillan's Nebula. By the time Infinity War breaks out in theaters on May 4, 2018, it's a pretty safe bet that the Avengers will have their own personal grievances against the Mad Titan moving into Avengers 4 on May 3, 2019.
With a double helping of Josh Brolin, 2018 will see an unprecedented number of Marvel films on the big screen, including three Marvel Cinematic Universe entries and three films set in 20th Century Fox's X-Men universe in addition to a still-untitled animated Spider-Man adventure. Stay tuned to stay up to date with all the latest comic book movie news.
Your Daily Blend of Entertainment News
Thank you for signing up to CinemaBlend. You will receive a verification email shortly.
There was a problem. Please refresh the page and try again.