A Photographer Dressed His Little Brother As IT's Pennywise, And The Pictures Are Amazing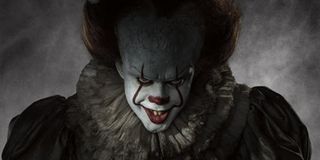 While it may not be the emotional reaction you've come to associate with sewer-dwelling clown monsters, a new take on Stephen King's Pennywise has become a hit online because of how creepy but adorable the photos are. Photographer Eag2n decided to dress his little brother Louie up with an outfit and makeup inspired by the horrific antagonist of next week's IT movie. The result, as you can see for yourself, is pretty fantastic:
That first photo shows off Pennywise Jr.'s spot-on makeup while the expression on the kid's face reveals how much fun he's clearly having with his older brother. Another photo, meanwhile, gives us a better look at the costume itself as this little Pennywise attempts to lure us into the woods:
A quick perusal of Eag2n's Instagram feed reveals him to be a massive IT fan with additional posts offering Pennywise fan art and more. It also becomes clear that this isn't the first time he's applied cosplay to his little brother. Additional photos reveal the kid dressed as both Rocket and Spider-Man (complete with a little kid version of Michael Keaton's Vulture!) for the respective summer releases of James Gunn's Guardians of the Galaxy, Vol. 2 and Jon Watts' Spider-Man: Homecoming. Here's what the little guy looks like without any makeup on:
Beyond the super cute kid who's front and center, one of the big reasons these photos are proving to be such a hit with Stephen King fans is because of how appropriately they match the IT storyline. The book (and the forthcoming film) begins with a suburban teen, Bill (Jaeden Lieberher), and his younger brother, Georgie (Jackson Robert Scott), who are very close despite their age disparity. When Georgie goes out to play with a toy boat built by his older brother, he soon encounters Pennywise in a sewer drain. Georgie's subsequent disappearance becomes the inciting incident of the narrative. Fortunately, the above sibling photography duo has a much happier story unfolding.
Because of the story's setting, a likely IT movie sequel will go after different actors for the lead roles. The storyline will eventually move to the future, and plans should call for older talent to reprise the Pennywise role. Otherwise, we'd totally suggest young Louie here. He's clearly pretty fond of playing the character and from that smile, we can just imagine him shouting, "You'll float too!" with demonic glee.
While we can't promise that it will be anywhere near as cute, the IT movie is nearly upon us. Director director Andy Muschietti's adaptation hits the big screen Friday, September 8. Between now and then, try not to let any clowns lure you anywhere, even if they do end up being pretty adorable in the attempt.
Your Daily Blend of Entertainment News
Thank you for signing up to CinemaBlend. You will receive a verification email shortly.
There was a problem. Please refresh the page and try again.