9 Actors DC Should Get To Play Joker In His Origin Movie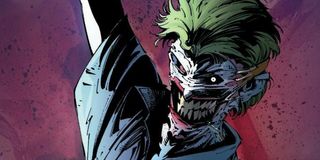 You would have a hard time finding a more iconic comic book villain than The Joker. In the decades since he was introduced in 1940's Batman #1, the clown-themed villain has turned into one of pop culture's most well-known and beloved bad guys. Because of that popularity, the character has been adapted time and time again on the silver screen, and the search is now officially on to find a brand new Joker for the upcoming non-DCEU movie exploring the origins of the character.
No final casting announcements have been made yet (as it's far too early for that), but we've decided to go through the Hollywood landscape and pick out nine actors that we think have the potential to nail the role. With that in mind, let's dive in and take a look at our first possible Mr. J.
Will Poulter
It's hard to think that only four years ago Will Poulter was that nerdy kid from We're the Millers, particularly after he delivered incredible performances in films like The Revenant and War Machine. However, it is his recent turn as corrupt, racist police officer Krauss in Detroit that has definitively proven what he can do as a super villain. His work in Kathryn Bigelow's 2017 thriller combined equal amounts of despicability, authority and menace that made him an unpredictable (yet oddly magnetic) screen presence. You hate him while you're watching him, but it doesn't make him any less of a scene-stealer. If any villain in the pantheon of DC Comics fits that description, then it has to be Mr. J.
Caleb Landry Jones
Caleb Landry Jones will look familiar to fans of the mutant universe out there from his brief stint as Banshee in X-Men: First Class -- before he was unceremoniously killed off in the interim between First Class and Days of Future Past. However, despite his experience on the heroic side of the comic book genre, Jones' experience as an actor seems to have prepared him to delve far deeper into the more evil side of things than anything morally righteous. Most recently making a name for himself as the sadistically macho Jeremy Armitage in Jordan Peele's Get Out, Jones can crack a seriously creepy smile and leave audiences completely on-edge, just like a proper Joker should be able to.
Bill Skarsgård
Okay, so this one feels like we're cheating a little bit since Bill Skarsgard has already proven his ability to play a killer clown with his upcoming stint as Pennywise in the IT adaptation. That said, there's a reason people often like to adhere to an "if it ain't broke, don't fix it" mentality. Skarsgard is bringing a lot of charisma, and even more creepiness, to his role as the iconic, murderous clown originally played by Tim Curry. But it actually only seems to represent an appetizer of what he could be capable of if a Joker solo movie were to allow him to step out from the sewer and don the infamous purple suit and green hair.
Lakeith Stanfield
With Lakeith Stanfield, we have yet another Get Out veteran on the list of possible young actors who could potentially play a brand new version of The Joker. Possessing one of the most diverse resumes in Hollywood (with credits on everything from Atlanta to Death Note), Stanfield has proven that he knows how to deliver comedy, drama and everything in between with gusto. Beyond that, when the announcement of a Joker origin movie actually occurred online, Stanfield was one of the first actors to take to Twitter in order to throw his hat into the ring for the role. He may not look like a traditional Joker, but he has all of the inherent traits that the part requires.
Karen Gillan
Although Joker is most typically portrayed as a man in the pages of DC Comics, there's ample precedent to flip the script and turn him into a her. With that in mind, Guardians of the Galaxy actress Karen Gillan recently came out and admitted that she wants a crack at the role at some point, so now feels like a perfect opportunity to give her a shot. In her role as Nebula, Gillan has shown an ability to throw herself into a dark and intense part, while also leaving room for comedy. If any actress young enough to play a Joker origin story has the chops to take on this role, then it's definitely her. Besides, we've seen the Joker story told from a male perspective before; maybe it's finally time to see a female Joker.
Robert Pattinson
Let's get one thing straight: it is not 2009 anymore, and the jokes about his role in the Twilight films have completely run their course. In the years since Robert Pattinson achieved fame and heartthrob status for his work as Edward Cullen and Cedric Diggory, the 31-year-old Brit has proven time and time again that he has the gumption and talent to take on increasingly challenging roles with each passing year. Between his work on Cosmopolis, The Lost City of Z and the recently released Good Time, Robert Pattinson is one of Hollywood's bravest actors, and his tall, wiry frame could potentially make him a dead-ringer to don the role of The Joker when the upcoming origin film finally starts rolling.
Paul Dano
At 33 years old, Paul Dano is the oldest entry on this list by a slight margin. Having said that, the Swiss Army Man star has also amassed an enormous filmography in the years since he began acting, and most of his roles have maintained the creepy (yet oddly comical) stylings that we would need to see in a Joker origin movie. In most of his best roles, Paul Dano has excelled at conveying an underlying sense that there's something not entirely sane lurking beneath his unimposing exterior. If a Joker origin story wants to explore a sad man's descent into madness, then there are few actors more naturally gifted at telling that type of story than Paul Dano.
Iwan Rheon
After achieving fame for his performance as Ramsay Bolton on HBO's Game of Thrones, a comic book villain seemed like an obvious direction for an actor like Iwan Rheon. Although he will flex those particular muscles on Marvel's upcoming Inhumans TV series as Maximus, it's hard to deny the fact that there's still a bit more potential for this 32-year-old actor as a silver screen bad guy. Often regarded as one of the worst villains to ever grace Game of Thrones, there's an argument to be made that Rheon's performance as the Bastard of Bolton even elevated him above King Joffrey. Able to portray ruthlessness, deceptiveness and sadism in every conceivable way, Iwan Rheon legitimately seems tailor-made for a role like The Joker.
Dane DeHaan
Between his work on The Amazing Spider-Man 2 and Valerian and the City of a Thousand Planets, Dane DeHaan arguably hasn't had the best experience working in the comic book movie genre. Having said that, there's an equally valid argument to be made that he simply hasn't found the right character yet. With his roles in films like A Cure For Wellness, The Place Beyond The Pines, and Chronicle (among others), the 31-year-old actor has proven his ability to delve into dark material and deliver truly haunting performances. Couple that experience with some of the better elements of his Green Goblin, and he could do some severe damage as a young (and completely unhinged) Clown Prince of Crime.
This poll is no longer available.
Your Daily Blend of Entertainment News
Originally from Connecticut, Conner grew up in San Diego and graduated from Chapman University in 2014. He now lives in Los Angeles working in and around the entertainment industry and can mostly be found binging horror movies and chugging coffee.