Daniel Radcliffe Loves That His Sundance Fart Drama Is Making Audiences Uncomfortable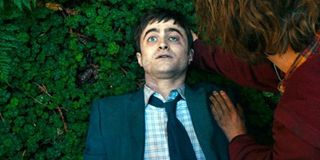 Swiss Army Man, Daniel Radcliffe's latest film, is a little weird. I'll let the film's premise explain why, because it sees Paul Dano playing a suicidal castaway, whose only company is a dead Daniel Radcliffe, who just happens to be incredible flatulent. Naturally, this is making audiences uncomfortable, and Radcliffe is not only fine with that, he finds it to be the film's best feature.
During its premiere at the Sundance Film Festival over the weekend, Swiss Army Man was met with a rather startled reaction by audiences, which included some walk-outs. But rather than being annoyed by this, its leading stars have admitted that they're happy the film has been divisive. Daniel Radcliffe stepped out as the member of the cast that admitted to The Hollywood Reporter that he loves that the drama is making everyone rather uncomfortable for the following reasons:
Everything about Swiss Army Man is a little off. For starters, when Paul Dano's marooned Hank, who is stuck on an island, finds the corpse of Daniel Radcliffe's Manny, it turns that he's not entirely dead. It also turns out that Manny still possesses an erection, which Hank then tries to use to help guide him back to mainland, all while Manny farts repeatedly. Despite the apparent vulgarity of the film, Swiss Army Man has actually been met with some relatively good reviews, which have insisted that while it's far from perfect, the comedy-drama is sweet and oddly uplifting. Plus, even the rumored walk-outs have to be taken with a pinch of salt.
Sure, some viewers and critics probably walked out of Swiss Army Man's first screening at Sundance, but that has to be taken into context of the film festival experience. Because Sundance is the home to so many new movies, audiences and critics are more likely to simply catch the first half an hour or so of a film, before then heading out to catch another.
While that probably doesn't mean that they think it's the best film that they've ever had the privilege of watching, it also doesn't mean that they were so sickened and disgusted by the experience. The odds could equally be split between audience members jetting out to see the next big thing, or that they felt the need to charge out and warn the rest of the world.
With Swiss Army Man, Daniel Radcliffe is once again on the hunt to distance himself from the Harry Potter franchise. Something that he has done rather well since the 2011 release of Harry Potter and the Deathly Hallows – Part 2, as he has appeared in The Woman In Black, Kill Your Darlings, What If, Horns, Trainwreck, and Victor Frankenstein, each of which have been idiosyncratic and just off the mainstream.
Swiss Army Man is Daniel Radcliffe's biggest leap away from the world of Hogwarts yet. Even though the reaction has been rather divisive, the fact that it's created a nice bit of buzz should help the film in its attempt to gain distribution. Flatulent / erect corpse and all.
Your Daily Blend of Entertainment News