Netflix's Long Shot Trailer: How Curb Your Enthusiasm Helped In A Murder Case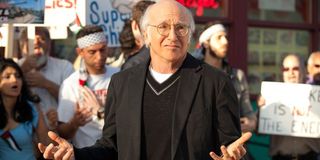 Netflix has just released the trailer for its upcoming true crime documentary, Long Shot, which is set to debut on the streaming service in September. The film, directed by Jacob LaMendola, tells the incredible true story of Juan Catalan who was charged in 2003 with first degree murder and found facing the death sentence. Incredibly, the footage that ended up supporting his alibi was filmed for an episode of Curb Your Enthusiasm. Check out the preview for the documentary below.
In May 2003, 24-year-old North Hollywood resident Juan Catalan was arrested and charged with the murder of 16-year old Martha Puebla. Puebla had been sitting outside her home in Sun Valley when a car stopped with several men inside. She approached by one of them and, according to witnesses, it was an individual with whom she was familiar. The man pulled out a pistol and shot Puebla in the head.
Puebla's murder had been connected to testimony she supplied in a case in which Catalan's brother, Mario, was a defendant. Juan had an alibi, but it wasn't an alibi that was easy to prove. He was one of 56,000 people attending an LA Dodgers game during the time the crime was committed. Unfortunately, ticket stubs from the game were insufficient to sway prosecutors who attempted to frame the narrative as Juan Catalan seeking revenge.
Although he spent more than five months behind bars, Juan Catalan was ultimately exonerated thanks to Curb Your Enthusiasm. In the 2004 episode, "The Car Pool Lane," Larry David winds up attending that very same Dodger game with a prostitute that he hires just so he can use the carpool lane and make it to downtown Los Angeles in time.
Juan Catalan didn't remember what show was filming that night in May, but he did remember one of the stars: Bob Einstein. Although Catalan wasn't then a Curb Your Enthusiasm fan, he was a fan of Einstein's Super Dave. From there, defense attorney Todd Melnick was able to get in touch with HBO and the Curb producers, who gladly provided access to all their raw footage. Sure enough, Catalan could clearly be seen with his daughter in one of the shots.
The men who killed Martha Puebla were ultimately brought to justice. In 2007, Jose "Peps" Ledesma and and Javier "Coco" Covarrubius plead guilty to the murder and accepted a life sentence without parole. It was also determined that two of the LAPD detectives handling the case, Martin Pinner and Juan Rodriguez, were criminally negligent when they falsely told gang members that Puebla had informed on them.
Long Shot is set to debut on Netflix Friday, September 29. The release of the documentary is one way this will make for a very Larry David weekend. After a six year hiatus, Curb Your Enthusiasm is also set to return for its ninth season the following Sunday, October 1. If you haven't already seen it, make sure you check out the season nine trailer.
Your Daily Blend of Entertainment News