How Cary Elwes Would Feel If Someone Tried To Remake The Princess Bride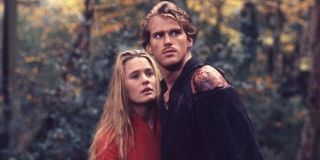 Rob Reiner's modern fantasy classic The Princess Bride is celebrating its 30th anniversary this year. Reiner, starting in the 1980s, released an incredible string of hits, and the adaptation of William Goldman's 1973 novel is as beloved today as any of them. Looking back on the movie three decades later, leading man Cary Elwes reflected on his his role as Westley, the simple farm boy-turned-Dread Pirate Roberts. While he scoffed at the notion that anyone should even try to remake the movie, Elwes did offer a nice "as you wish" of sorts to anyone attempting to do so. He said:
"Lightning in a bottle" is indeed an appropriate metaphor for the Rob Reiner film. The Princess Bride's incredible cast includes, in addition to Cary Elwes, Robin Wright, Billy Crystal, Fred Savage, Mandy Patinkin, Wallace Shawn, André the Giant, Peter Falk, Chris Sarandon and Christopher Guest. Reiner was coming off his first Stephen King adaptation, Stand By Me (he'd later also adapt Misery), which was a hit both critically and at the box office. Meanwhile, author William Goldman himself returned to adapt the screenplay. Everything fits so perfectly together in the final film that it's hard to imagine an alternate take.
While it's not something that would make a Princess Bride remake a good idea, fans of William Goldman's original novel will recall that there's a major sequence excised from the story in the film version. Prince Humperdinck (Chris Sarandon in the movie) keeps a menagerie that he calls "The Zoo of Death." Inside, Humperdinck keeps the world's most dangerous animals in a death maze that included five levels. The first was filled with Earth's fastest creatures, the second with the strongest, the third with the most poisonous and the fourth with the most dangerous "enemies of fear". The fifth level was reserved for whatever animal Humperdinck would one day capture that would ultimately prove most dangerous. In the book, that room would appropriately come to house Westley for a time. It's certainly understandable why the Zoo of Death might have been a bit ambitious for the 1987 film, but it's still an idea that would be incredible to see realized on film.
Given that William Goldman's novel was quite popular for more than a decade before work even began on Rob Reiner's film, it's debatable whether the film version should truly be considered "an original." Oddly enough, even the book's original text pretends that the story is the work of an older book by fictional author S. Morgenstern. Goldman then interjects with his own "edits" throughout the story. The fourth-wall breaking technique was reinvented for the film version, instead having Peter Falk playing a character reading The Princess Bride book to his grandson (Fred Savage).
Hopefully we won't have to worry about anyone trying to remake The Princess Bride anytime soon. If you would like to check out an alternate approach, however, take a look at this fan made trailer that turned the film into a horror movie.
Your Daily Blend of Entertainment News
Thank you for signing up to CinemaBlend. You will receive a verification email shortly.
There was a problem. Please refresh the page and try again.