12 Movies That Probably Are Never Going To Happen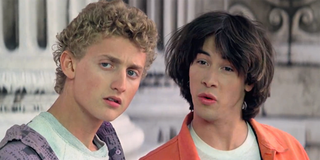 Sometimes, a movie sounds like a good idea on paper, but then for whatever reason, it just never seems to make it off the ground floor. This is known as development hell, and some movies have been trapped it in it for years before the film either goes into production or someone finally gives up. But often times, a studio will toil away until they've found just the right forward momentum, which can take a loooooong time. Certain projects can take decades before they make it into theaters. At some point, we have to wonder if the film will ever escape the fires of development.
There are a lot of different reasons for why a movie never seems to leave development hell. Maybe the source material is too difficult, too vast, to nail down into one screenplay or maybe scheduling conflicts from actors and directors force it back to the drawing board. When you're paying close enough attention, you notice that certain movies always seem to work their way back into the news cycle, only to once again return from whence it came. These are the movies that make you roll your eyes and think, "Yeah, this is never happening," and you can find 12 of those very projects right here on this list.
Bad Boys 3
There have "been conversations" about a Bad Boys 3 for years now, which is the Hollywood version of tentatively making lunch plans with your friends that can be cancelled at any minute. The project seemed to pick up some serious steam when Joe Carnahan was brought in to write and direct the third film, which would reunite Will Smith and Martin Lawrence. But just as it saw the light, Bad Boys 3 (also known as Bad Boys for Life) was dragged back down to hell when Carnahan had to leave the project to focus his time elsewhere. With Will Smith's increasingly busy schedule, the window for Bad Boys 3 is likely to remain shut.
Akira
Movies based on anime have proven to be extremely hard to adapt. Recent examples like Ghost in the Shell and Death Note failed to really land with fans, and while both movies endured their fair amount of controversy, that isn't stopping Warner Bros. from trying to tackle the king of all anime movies: Akira. A live-action film based on the highly influential 1988 film has been in development since 2002 but has never been able to secure a director for long. At one point, a version of the script for Akira leaked online, which seriously deviated from the source material and included heavy-handed 9/11 references and characters with misogynistic undertones -- not a great sign things were going well. Most recently, Warner Bros. reportedly pursued Jordan Peele, but he (wisely) declined the offer to direct.
Gambit
Gambit is one of the youngest in-development projects on this list, but boy, what a life lived. Fox expressed interest in making a Gambit movie in 2014, and Channing Tatum signed on to star in the solo film. Then Rupert Wyatt came on to direct in June 2015 but dropped out due to scheduling conflicts by September. Then Doug Liman was brought in, but he too left the project in August 2016. Now, the film is being rewritten after the success of Deadpool and Logan, and Tatum is still attached to star. Gambit was originally scheduled to release in theaters almost an entire year ago, so progress has not been great for the Ragin' Cajun. It's still in the cards (unintentional, I swear), but fan interest seems low, and Fox clearly doesn't know what the movie is supposed to be yet.
Men in Black/21 Jump Street Crossover
After Men in Black 3, talk circulated for a possible fourth film in the popular sci-fi series. Coincidentally, Sony was also exploring options for another Jump Street (despite 22 Jump Street's very intentional mission to destroy all sequel options) at the time. So, with two buddy comedy action franchises seeking sequels, Sony considered the idea of mashing the two of them together in an out-of-the-box crossover. This idea was first revealed in an email exchange during the famous Sony hack of 2014, with producers and Jonah Hill expressing interest. A title (MiB 23) and a director (James Bobin) were later announced, but Hill has since admitted that he doesn't think the movie will happen. More traditional sequels for both series are on the table, but it's unlikely that they are happening anytime soon.
The Crow Reborn
Listen well and beware the tale of The Crow remake. People have been trying to make a remake of 1994's gothic comic book movie, The Crow, as far back as 2008. Tons of different directors and actors have had their names attached to the project at some point or another, but no forward momentum is ever gained. Relatively Media -- the company trying to make the movie -- going bankrupt didn't help matters much either. Jason Momoa and director Corin Hardy were the last names associated with The Crow Reborn, but after the rights changed hands, their involvement is up in the air. Currently, Sony will distribute the film, but other details remain scarce.
Rendezvous With Rama
Rendezvous with Rama is a 1973 sci-fi novel written by Arthur C. Clarke and tells the story of a group of human astronauts exploring a magnificent alien spaceship (the Rama) as it travels through their solar system. An interest in making a movie adaptation of the classic novel is almost entirely powered by, of all people, Morgan Freeman, who has been trying to make this project since the early 2000s. Mainly citing script issues, Freeman has never been able to make substantial progress but has nonetheless remained confident that the movie will happen. David Fincher was once attached to direct but is no longer associated with the project. The cylindrical and physics-bending interior of the Rama was a major influence on Christopher Nolan's Interstellar.
Halo
It's a no-brainer that Microsoft wanted to make a live-action movie centered on their flagship video game series, Halo. Getting the movie made, however, has proven to be easier said than done. In 2005, Microsoft recruited Alex Garland to write a screenplay, and 20th Century Fox and Universal teamed up to distribute the film. Guillermo del Toro was originally going to direct but passed the reigns over to Neil Blomkamp, a then up-and-comer and avid Halo fan. Trouble is, when you have three colossal companies butting heads on the same project, something's eventually going to give. The politics between Microsoft, Fox, and Universal crashed the film and it has yet to find new life. In 2013, a live action TV series on Showtime was announced with Steven Spielberg as executive producer, but that project is still in active development.
Bill & Ted 3
If you thought that Bill & Ted's Bogus Journey said everything that was needed to be said, then you were wrong. Bill & Ted 3 has been in the works for a few years now. Both Keanu Reeves and Alex Winter have expressed an interest in returning to their lovable air-headed duo and supposedly, there's even a finished script. However, no filming date has ever been set for whatever reason. The story supposedly follows Bill and Ted as they try to write a song that will save the entire universe.
Masters of the Universe
Beloved 80 toy line He-Man and the Masters of the Universe received a live-action film back in 1987 starring Dolph Lundgren and a pre-Friends Courtney Cox, but what's old is new again. A reboot of Masters of the Universe was announced in 2008, but work on the project has been slow, with quite a few different drafts of the script getting penned by different writers. John Stevenson, Jon M. Chu, and McG have all had their names attached to direct, and last we heard, Kellan Lutz was being pursued for the lead role. David S. Goyer is writing the current draft of the script, but no director is signed on to protect Castle Grayskull from the evil forces of Skeletor.
Beverly Hills Cop 4
Before Eddie Murphy began his family-friendly phase, he was known for his foul-mouthed and smart aleck characters. The Beverly Hills Cop series is arguably Murphy at the height of his power, so it makes sense that he'd be interested in making Beverly Hills Cop 4. Brett Ratner was working on developing the sequel in 2008, but progress stalled. Then the plans for a movie seemed to have been scrapped in favor of a TV show, but CBS passed on picking it up. Then, Brett Ratner was again attached to direct a movie and everything seemed to be good to go, but then Paramount pulled it from its schedule over script concerns. Now Adil El Arbi and Bilall Fallah are attached as directors, but Beverly Hills Cop 4 has been all quiet for a while now.
The Sandman
You'd be hard-pressed to find a more critically acclaimed graphic novel than Neil Gaiman's The Sandman -- you'd be just as hard-pressed to find a movie about The Sandman too. The live-action Sandman movie has been trapped in development hell since the late 1990s and not much has changed for the project. The film has seen different creative teams over the years but seemed to pick up the most steam when David S. Goyer and Joseph Gordon-Levitt signed on as producers. However, Gordon-Levitt left the project in 2016 over creative differences one day after Eric Heisserer was tasked with rewrites. There hasn't been much news on The Sandman since then, but after his own departure, Heisserer stated that The Sandman would be better served as a TV show.
A Confederacy of Dunces
Lots of movies have trouble getting off the ground, but few of them are actually believed to be cursed. Hollywood has been trying to make an adaptation of the novel A Confederacy of Dunces as early as 1982 and it's been plagued by death and disaster. Harold Ramis first wanted to make a movie, but the leads he considered -- John Belushi, John Candy, and Chris Farley -- all died at an early age. Production was further halted by the murder of the head of the Louisiana State Film Commission. John Waters was also interested in directing, but his chosen lead, Divine, also died young. A version written by Steven Soderbergh and starring Will Ferrell was looking to release in 2005, but never made it to fruition. The reasons given range from a lack of interest from Paramount to the devastation of Hurricane Katrina in New Orleans (where the story takes place). A Confederacy of Dunces adaptation remains in purgatory to this day and at this point, a film about trying to make this project could be more interesting than the actual Dunces movie would be.
Your Daily Blend of Entertainment News
Matt has lived in New Jersey his entire life, but commutes every day to New York City. He graduated from Rowan University and loves Marvel, Nintendo, and going on long hikes and then greatly wishing he was back indoors. Matt has been covering the entertainment industry for over two years and will fight to his dying breath that Hulk and Black Widow make a good couple.