Gambit: What We Know So Far About The X-Men Spin-Off Movie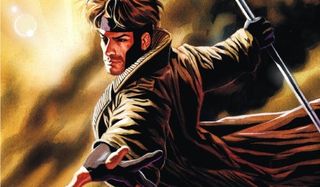 Update: As of May 5, 2019, Gambit has officially been shelved. But! Should things get going again for Gambit, be sure to keep an eye on this space, and CinemaBlend, because we'll have the latest news for you!
Created by Chris Claremont and Jim Lee, the mutant character Gambit was first introduced to Marvel Comics in 1990, and while considered by many to be a controversial character, he certainly has developed his own dedicated fan-base (particularly in thanks to the animated show that began in 1992). With the X-Men franchise expanding, 20th Century Fox has spent years trying to capitalize on this popularity, and now they may actually get to by giving the mutant hero his very own solo movie.
But what's the Gambit film going to be about? Who is it going to star? Who has been put in charge of making it? We answer all of those questions and more in this latest installment of our What We Know So Far guides. Read on and learn!
When Is The Gambit Release Date?
In January of 2015, 20th Century Fox announced a number of big release dates, but one of the most significant was the placement of Gambit - which was pegged for October 7, 2016. This was a big deal, mostly because it looked like the X-Men Cinematic Universe would beat both Marvel Studios and DC Comics/Warner Bros. to the three-movies-per-year punch - releasing both Deadpool and X-Men: Apocalypse in the months before it. Unfortunately, that plan didn't turn out so hot.
Following Deadpool's incredibly successful release in February 2016, 20th Century Fox officially announced that they would be removing Gambit not just from their 2016 release schedule, but their release schedule in general. It's been said that the project is hoping to start up production before the end of 2016, meaning that the film could find its way into theaters some time in the second half of 2017, but it's unclear if that is actually going to happen. For now, the film exists with a giant "TBA" where its release date should be.
What Is The Gambit Rating?
It has not yet been revealed what the rating of Doug Liman's Gambit movie will be, but what's interesting is that there are more possibilities that exist with the project than with most superhero films. While Marvel/Disney and DC Comics/Warner Bros. seem 100% happy continuing to make only PG-13 projects that appeal to mass audiences, the X-Men franchise and 20th Century Fox have been a tad bit more open minded about the potential of more adult-geared fare.
Fox had incredible success with Deadpool in 2016 - the movie actually managing to not just become the highest grossing title in the X-Men franchise, but one of the highest grossing R-rated movies ever released. The crazy box office numbers have already inspired the studio to let director James Mangold make the third and final Wolverine feature with plenty of blood and cursing, so it's entirely possible that they will go the same direction with Gambit. The Cajun hero isn't one who necessarily entirely lends himself to an R-rated feature, but it's not like Fox hasn't made particular alterations to characters before (Gambit not excluded).
Director Troubles
As of August 2016, Gambit has no director signed on to helm the film. That wasn't always the case, though. The film has been through a series of rumored directors and has had two directors sign on to the movie, only to later drop out. Most recently, the announcement that Doug Liman, seen above, had landed the gig arrived through trade reports in November 2015 -- following stories suggesting that he was the frontrunner for the job. The production is currently scrambling to fill the director's chair in the hopes of fulfilling the proposed January 2017 production start date.
Liman may have been calling all the shots for the production of Gambit until recently, but he wasn't always going to be the guy in that position. In fact, for many months it looked like it was going to be Rise of the Planet of the Apes' Rupert Wyatt -- but that fell apart behind the scenes.
To rewind things completely, Gambit was announced for a 2016 release date, but spent many, many months without anybody actually at the helm. It May of 2015 a rumor began to spread around saying that Channing Tatum and 20th Century Fox were reaching out to a number of high profile directors about the possibility of making the blockbuster, but that they repeatedly got turned down. This is a list that included names like Darren Aronofsky, Gareth Evans and J.C. Chandor. It was a few weeks later that Rupert Wyatt entered the picture and signed a deal to direct.
But it was a few months later that the project once again ran into director issues. In September 2015 a trade report revealed that Rupert Wyatt was leaving the production. At the time it was said that there were schedule conflicts, as the filmmaker wanted to start work on other movie and couldn't do both -- but an insider later went on the record saying that "Ambivalence is not a good way to go into an expensive movie" and that Wyatt is a principled filmmaker who was unwilling to work on something unless he could make it live up to his own high standards.
After that, the director search restarted, and while more rumors said that Attack The Block's Joe Cornish and Iron Man 3's Shane Black were on 20th Century Fox's radar, the gig eventually went to Doug Liman, who then backed out in August of 2016 after a series of scriptwriting delays for the movie.
The Story
Gambit was originally being written by screenwriter Joshua Zetumer - the scribe behind the 2014 RoboCop remake -- but since the film got pushed from its 2016 release date, Reid Carolin (Magic Mike) has been taking care of rewrites. While nothing has officially been confirmed about the plot of the film, it's expected to follow certain beats from the titular character's origin story in Marvel comics.
Set to be a part of the growing X-Men Cinematic Universe, the film is expected to follow the young Remy LeBeau as he lives in New Orleans, Louisiana as a key member of the venerable Thieves' Guild. In order to try and create peace between this group and the rivals of the Assassins' Guild, a marriage is organized between Remy and Bella Donna Boudreaux, the granddaughter of the head assassin and a childhood friend of Remy's. Unfortunately, due to certain sour family members, this event winds up going horribly wrong.
At this time it is unknown who will be the central antagonist of the film, but we'll get into that soon.
Gambit
Taking on the role of Remy LeBeau, a.k.a. Gambit, in the Doug Liman-directed superhero movie will be none other than A-lister Channing Tatum... and that casting is really all thanks to long time X-Men franchise producer Lauren Schuler Donner. Back in January of 2014, the filmmaker went on the record saying,
Interestingly enough, Channing Tatum's connections to both the franchise and the character have been around for quite a long time. Back in 2006 when director Brett Ratner was working on making X-Men: The Last Stand, Tatum was one of the actors who was in the running to take on the first live-action version of Gambit. The character was ultimately cut from the script and wasn't featured in the film, but apparently the "Tatum as Gambit" idea stuck around.
In late July 2015, there were reports that circulated saying that certain issues had come up between Channing Tatum and 20th Century Fox regarding his contract. As a result, it was speculated that there was a possibility that he could wind up leaving the project behind and leaving the studio in the position of recasting the lead. This trouble was averted a few days later, however, when it was revealed that the actor had closed a deal.
Channing Tatum's version of Remy LeBeau in Gambit is expected to have his traditional thick Cajun accent -- which the actor claims he can do thanks to his father being from New Orleans - and there's no reason to believe that they will be changing the hero's traditional power set that comes courtesy of his mutation. His primary ability is that he can connect to and channel kinetic energy, and can subsequently use this to charge individual objects. He is particularly known for "charging" playing cards and throwing them around as explosives. Additionally, he is a skilled and acrobatic fighter who uses a bo staff as his primary weapon.
Bella Donna Boudreaux
Bella Donna Boudreaux and Remy LeBeau first met when they were just eight years old, and for the longest time had no clue that they were star-crossed - being from the Assassins' Guild and the Thieves' Guild, respectively. As mentioned earlier, that friendship is eventually transformed when the two are arranged to be married -- though it's a romance that ultimately leads to many tragic events.
Seen pictured above, actress Lea Seydoux will be playing the Gambit heroine, having first been rumored for the role back in July of 2015. According to reports, her closest competition for the role came from Mission: Impossible - Rogue Nation's Rebecca Ferguson, and Mad Max: Fury Road's Abbey Lee, but obviously she was able to beat both of them out and get the role. Given the French actress' country of origin, it's expected that she will do just fine with a Cajun accent in Gambit, and her action experience in both Mission: Impossible -- Ghost Protocol and Spectre should serve her well also.
Like Gambit, Bella Donna Boudreaux is also a mutant, though she has a very different power set. She has the ability to not only produce "plasma blasts," but also has the psychic power of astral projection.
The Villain
As alluded to earlier, not much is known about the central antagonist in Gambit mostly because nothing is known about the story, but there is one particular candidate who sticks out as a real possibility and has been hinted at in casting calls: Mr. Sinister. In the comics, Sinister a.k.a. Nathaniel Essex has an interesting encounter with Gambit in his younger years, having once hired the thief to steal diaries from the Weapon X program (also known as the experimental program that created Wolverine). The character has also already been teased in the big screen X-Men universe, specifically in the post-credits sequence of X-Men: Apocalypse.
Mr. Sinister was actually born all the way back in the year 1859, and was a biologist who became completely and utterly obsessed with the ideas of evolution. In particular, he theorized that all of humanity was going through a period of mutation - though he also felt that most of his colleagues were too held back in their experimentation due to their morals. After being rejected by the scientific community, he got into the business of kidnapping homeless people and conducting terrible experiments on them.
Unlike many characters in the X-Men universe, Mr. Sinister isn't actually a mutant, but is instead considered a "mutate" - which is to say that his genes have been scientifically altered to give him special abilities (Deadpool is another example of a mutate). He is incredibly gifted and dangerous, with powers that include telepathy, energy projection, shapeshifting, and immunities. As you can probably tell from his birth year, he can also regenerate, giving him an extended lifespan.
As mentioned, Mr. Sinister hasn't been confirmed to have a role in Gambit, but if he is in the movie there is an award-winning, acclaimed actor who has already thrown his hat into the ring for the gig. In October 2015, Breaking Bad star Bryan Cranston mentioned that it was a comic book character that he would be particularly interested in taking on. It's worth noting that Sinister is British in the comics, which would make Cranston an odd choice, but it's hard to imagine him not pulling it off.
Taylor Kitsch
Long before Channing Tatum officially got the green light to be the new big screen version of Gambit in the X-Men franchise, that was a gig that originally belonged to Friday Night Lights star Taylor Kitsch. The actor, who would go on to star in John Carter, played Remy LeBeau in Gavin Hood's X-Men Origins: Wolverine, and is portrayed as being a former prisoner of William Stryker's who managed to escape. He winds up working with Wolverine so that the adamantium-clawed mutant can get back to Stryker's base and destroy it.
While not considered the worst thing in the movie (which was roundly criticized and bashed by fans and professional critics alike), Taylor Kitsch's version of Gambit wasn't exactly beloved -- if not partially because the accent was too soft and the character never got to sport his signature look.
The X-Men franchise can get away with recasting Remy LeBeau, a.k.a. Gambit, thanks to the end of X-Men: Days of Future Past, which wiped the series' entire continuity clean post 1972 -- which is to say everything other than X-Men: First Class, the early scenes of X-Men Origins: Wolverine and Days of Future Past itself. Don't feel too bad for Taylor Kitsch, though, because he wasn't exactly too hurt about Channing Tatum taking the gig for the new solo movie. Asked for his thoughts on the subject in the summer of 2015, Kitsch explained
Basically, he's being a real sport about the whole thing.
Your Daily Blend of Entertainment News
Assistant Managing Editor
NJ native who calls LA home and lives in a Dreamatorium. A decade-plus CinemaBlend veteran who is endlessly enthusiastic about the career he's dreamt of since seventh grade.