One Big Way Avengers 4 May Change Hawkeye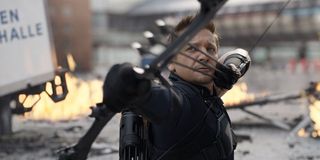 Ever since he cameoed in 2011's Thor, Jeremy Renner's Clint Barton, a.k.a. Hawkeye, has been an important hero in the Marvel Cinematic Universe. From being one of the founding Avengers to aiding Captain America during the Sokovia Accords, Hawkeye has proven himself to be a dependable ally...well, when he's not being mind-controlled by Loki, that is. Hawkeye will lend his talents again in Avengers: Infinity War next year and in Avengers 4 the year after, but there's a rumor now circulating that in the latter movie, he may hang up his bow and become Ronin.
Although Clint Barton is primarily known as Hawkeye in the comics, he's adopted a number of other superhero identities over the decades, and one of those is Ronin. Now following the reports that part of Avengers 4 will take place in Japan and that Jeremy Renner is rocking a different haircut for the movie, MCU Exchange is reporting that Barton will not be wearing the familiar Hawkeye costume when we reunite with him in 2019, but will instead be garbed as some version of Ronin. Supposedly something happens in Avengers: Infinity War that leaves Clint "in a very dark place," and that's the reason for his identity shift.
Clint Barton was the second person in the Marvel Comics universe to become Ronin, inheriting the name from Maya Lopez, better known as Echo. After being resurrected from the dead, Clint fought as Ronin for the New Avengers team until the conclusion of the Dark Reign and Siege events, by which point he returned to being Hawkeye and shared that identity with Kate Bishop. It was previously reported that Avengers 4 may show Black Widow battling criminals in Japan, so perhaps Clint Barton will assist his old S.H.I.E.L.D. partner as Ronin. Clint also isn't the only one who's rumored to be changing superhero identities in the MCU, as Steve Rogers will reportedly appear as Nomad in Avengers: Infinity War after abandoning the Captain America mantle at the end of Captain America: Civil War.
As for the Avengers: Infinity War event that will lead Clint to reportedly transition from Hawkeye to Ronin, I suspect it has something to do with his family. Avengers: Age of Ultron revealed that Clint Barton was married and had two kids (three by the end of the movie), and was able to keep his family life secret from most thanks to Nick Fury's help. Had the events of Captain America: Civil War not occurred, Clint would have stay retired from the superhero life, but now that he's had to pick up his bow and arrows again, what if his family somehow gets roped into the craziness of Infinity War and are killed? That's unquestionably a dark enough reason for Clint adopt a new identity and perhaps even take a more brutal approach to fighting bad guys.
Avengers 4 hits theaters on May 3, 2019.
Connoisseur of Marvel, DC, Star Wars, John Wick, MonsterVerse and Doctor Who lore. He's aware he looks like Harry Potter and Clark Kent.
Your Daily Blend of Entertainment News
Thank you for signing up to CinemaBlend. You will receive a verification email shortly.
There was a problem. Please refresh the page and try again.