How Will Captain Marvel Actually Handle A Young Nick Fury?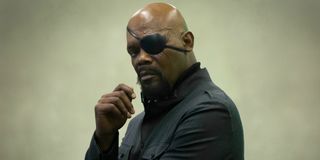 Marvel President Kevin Feige kicked off the company's San Diego Comic-Con presentation with some blockbuster tidbits. After confirming Michelle Pfeiffer for Janet Van Dyne in Ant-Man and The Wasp, Feige shifted gears to Captain Marvel, stating that the standalone movie would be set in the 1990s -- before the introduction of the MCU with Iron Man -- and feature the alien race of Skrulls as primary villains. In doing so, Feige also stated that Nick Fury would be a big part of the story, and that the S.H.I.E.L.D. agent would have full use of both eyes in the "prequel" chapter, meaning he won't need a patch.
The information was flowing so quickly, we didn't really stop to process the fact that Nick Fury was mentioned, but Samuel L. Jackson was not. The actor has been out promoting his upcoming film The Hitman's Bodyguard recently, and this means having to field Marvel questions from curious journalists. Well, while speaking with Yahoo, Jackson states that he hasn't signed a contract to appear in Captain Marvel yet, and that he recently spoke with Brie Larson -- his Kong: Skull Island co-star and the STAR of Captain Marvel -- and believes she's the only actor confirmed to appear in the movie.
A lot can change between now March 8, 2019, the date when Captain Marvel is due to open in theaters. But this flurry of activity has us wondering how co-directors Anna Boden and Ryan Fleck will approach Nick Fury in their MCU movie. These seem to be the best options. Which one do you prefer?
Nick Fury Gets Recast
Despite having kicked off the Marvel Cinematic Universe in 2008's Iron Man, Samuel L. Jackson's Nick Fury has largely been sidelined. He appeared in 2015's Avengers: Age of Ultron as S.H.I.E.L.D. swooped in to assist the team in Sokovia. But Fury hasn't been in the heat of battle since Captain America: The Winter Soldier, and it's a waste of a worthy character. One way to bring the special agent back up to speed is to recast him with a younger actor, and now seems like it could be the appropriate time.
If Captain Marvel is going to be set in the 1990s, Nick Fury is going to have to look 20 years younger than he does in the most recent Marvel movies. And while Sam Jackson looks FANTASTIC for his age, he's currently pushing 70, and actually will be 70 the year that Captain Marvel reaches theaters. Turn the role over to a younger actor, and give that person a chance to grow into the massive shoes that Samuel L. Jackson created by playing the part for years. It won't disrupt the continuity of the MCU. And if it works, it creates a precedent for other Marvel movies set in earlier time periods that could let them continue major storylines without having to worry about current actors (like Chris Evans or Mark Ruffalo) aging out of their roles.
They Use CGI To De-Age Samuel L. Jackson
Marvel's no stranger to this approach, having used groundbreaking visual effects to make the likes of Michael Douglas and Robert Downey Jr. look much younger in memorable scenes from previous MCU movies. That being said, this technique has only been employed in brief scenes -- like an early sequence from Captain America: Civil War, pictured above -- and I'm not confident that it can help carry a full performance for an entire movie, as we expect Nick Fury to have to do in Captain Marvel.
The technique of de-aging recognizable actors in familiar roles is slowly developing, but it's also receiving vocal pushback... as when Rogue One: A Star Wars Story tried to bring back the late Peter Cushing through digital wizardry that looked like just that: a digital trick. So if the decision is made to try and de-age an older Sam Jackson so he an continue to play Nick Fury, that might be an indication that Fury has a smaller role in the movie. Because even with the next few months to "perfect" the process, I'm not ready to believe it will be ready to sell the de-aging of this seemingly important character.
He'll Just Look Old
This could be the ultimate approach. Marvel fans seem to love Samuel L. Jackson in the role of Nick Fury, and Sam certainly isn't backing off of action roles despite his advanced age (see The Hitman's Bodyguard, as a recent example of his higher-octane works). So maybe Captain Marvel just rolls with the notion that it's giving us more Nick Fury, and it's letting Sam Jackson hold on to the roll. Will MCU fans complain too much if Nick looks older, even though the movie's supposed to be set in the 1990s? I mean, there's a definite section of the MCU fanbase that obsesses over timeline and continuity, but in a movie where a flying superhero is punching aliens, this might be a minor quibble.
We'll know more as the march to Captain Marvel continues. For now, Samuel L. Jackson's Nick Fury is not expected to show up in either of the two Avengers movies that Joe and Anthony Russo are mapping out. And he might not be in Captain Marvel, either. Does this mean Sam's memorable run through the MCU has drawn to a close? Time will tell. In the meantime, head over here to find out all that you need to know about the Upcoming Marvel Movies.
Sean O'Connell is a journalist and CinemaBlend's Managing Editor. He's frequently found on Twitter at @Sean_OConnell. ReelBlend cohost. A movie junkie who's Infatuated with comic-book films. Helped get the Snyder Cut released, then wrote a book about it.
Your Daily Blend of Entertainment News
Thank you for signing up to CinemaBlend. You will receive a verification email shortly.
There was a problem. Please refresh the page and try again.