Some Guy Walked Into His IT Screening And Saw This Terrifying Clown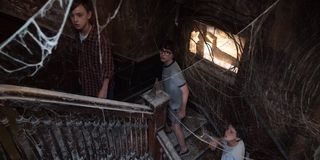 IT's a pretty scary movie, and if you've been one of the large number of people to already see it in theaters, you know about the jump scares and the terrifying effect Pennywise's grotesque smile has on theatergoers. However, at one theater an audience member went to see IT and got to the theater early. Usually this means prime seating, but in this case it meant he encountered a scary clown already sitting down. Check it out.
Despite some clowns being upset about IT affecting their business, this month has been a pretty good month for clown sightings, with Alamo Drafthouse hosting its own clown-only screening of the flick. We anticipate this to continue into October, as IT continues its theatrical run and as Halloween approaches. Still, the sight of a clown with a red balloon in an empty theater is enough to give anyone a jolt, and it certainly gave Twitter user Chris a scare when he saw the clown sitting there. Especially after that same clown started wandering around.
As someone who is easily scared and could barely keep her eyes on the screen a couple of times during the movie, I think if I had wandered in to an empty theater populated with only one intense-looking clown holding a red balloon, I would have said, "Nope," and immediately turned around. This brave social media user did sit down, even with the clown, to watch the new movie in its entirety, noting it was "Awesome." It's a sentiment that agrees with the 86% fresh rating the new horror movie has gotten on Rotten Tomatoes.
If you haven't caught IT yet, a lot of other people have. The movie made $123.1 million at the box office this weekend, up from the $117 million originally announced and way up from the $50 million initially projected for the first week of release. Of course, there's usually a big drop off between week 1 and week 2 at the box office, but even if IT drops by around 50% or more in its second week, it should have a big haul again next weekend. We'll let you know exactly how that pans out.
But if you do go to an IT screening in the coming weeks and happen to spot a clown, do drop us a line. We'd love to see all of the creepy and inventive stuff that IT viewers are coming up with. Plus, if you haven't seen the movie based on the popular Stephen King book, it's still currently in theaters. Here's what else is coming up, as well.
Reality TV fan with a pinch of Disney fairy dust thrown in. Theme park junkie. If you've created a rom-com I've probably watched it.
Your Daily Blend of Entertainment News
Thank you for signing up to CinemaBlend. You will receive a verification email shortly.
There was a problem. Please refresh the page and try again.