One Big Guardians Comics Character That Won't Be In Guardians Of the Galaxy 3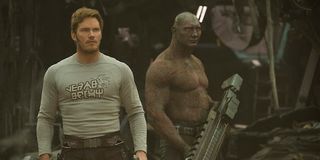 The Guardians of the Galaxy movies center on the modern incarnation of the cosmic superhero team that formed in the comics in 2008. But earlier this year in Guardians of the Galaxy Vol. 2, director and writer James Gunn introduced Yondu's old Ravager pals, who are now serving as the Marvel Cinematic Universe's version of the original Guardians of the Galaxy team that debuted in 1969. That leaves the door open for the current Guardians to possibly interact with the previous "generation" of Guardians in Guardians of the Galaxy Vol. 3. However, according to Gunn, fans shouldn't get their hopes up of seeing classic Guardian Vance Astro introduced in the next movie. When asked by a fan what the chances of seeing Astro in Guardians of the Galaxy Vol. 3 were, Gunn responded:
James Gunn was among the many guests in attendance at Hasbro's HASCON event this past weekend (via MCU Exchange), and while he's still in the stages of crafting Guardians of the Galaxy Vol. 3, he was able to be the bearer of bad news to a Vance Astro fan in the crowd. Since the Guardians of the Galaxy Vol. 3 treatment is already done, it would be extremely difficult at this point to fit Vance in with the "original" Guardians and have him be an integral player in the movie. There's always the chance that Gunn could find a way to tease Vance in Guardians of the Galaxy Vol. 3 in an Easter egg, but as a fully-fleshed out character, he won't appear. Still, since Vance didn't show up in that Guardians of the Galaxy Vol. 2's mid-credits scene with the other original Guardians, this isn't entirely shocking.
Debuting in 1969's Marvel Super-Heroes #18, Vance Astro, a.k.a. Major Victory, was the leader of the original Guardians of the Galaxy. Originally named Vance Astrovik, he joined the U.S. Air Force upon becoming an adult and was recruited for the United States' first long-term interstellar mission. Vance was put into suspended animation and a special skin-preserver to prevent him from aging, and he eventually arrived at his destination, Centauri IV, 10 centuries later. However, by that point humanity had already lived on Centauri IV for centuries thanks to faster-than-light travel technology, and they'd been unable to intercept Vance's ship beforehand. Now living a millennium in the future with new telekinetic powers, Vance decided to keep carrying out his original mission, and that led him to eventually meeting the other original Guardians and forming the team. It's since been established that Vance hails from Marvel's Earth-691 timeline, not the main continuity.
Despite the lack of Vance Astro in Guardians of the Galaxy Vol. 3, the rest of the surviving "original" Guardians in the MCU look like they have a bright future ahead of them. Following Yondu's death, Stakar Ogord (Sylvester Stallone) and his second-in-command Martinex (Michael Rosenbaum) reunited with Charlie-27 (Ving Rhames), Aleta Ogord (Michelle Yeoh), Mainframe (voiced by Miley Cyrus) and Krugarr so they could go on more adventures and "steal some shit." While it hasn't been confirmed yet if the Ravagers team will appear in Guardians of the Galaxy Vol. 3, James Gunn has said that they will return in future MCU movies.
Guardians of the Galaxy Vol. 3 doesn't have an official release date, though James Gunn expects that it will be released sometime in the first half of 2020. While we wait for more news regarding the threequel, the main Guardians team will jump back into action when Avengers: Infinity War comes out on May 4, 2018.
Connoisseur of Marvel, DC, Star Wars, John Wick, MonsterVerse and Doctor Who lore. He's aware he looks like Harry Potter and Clark Kent.
Your Daily Blend of Entertainment News
Thank you for signing up to CinemaBlend. You will receive a verification email shortly.
There was a problem. Please refresh the page and try again.