Is Jumanji: Welcome To The Jungle A Sequel, A Prequel Or A Reboot? Here's What We Know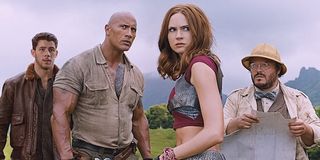 While there has been a lot of intrigue and excitement over the release of Jumanji: Welcome To The Jungle, it has also been hard to figure out exactly how the film links up to the original. Is it a sequel? Does it reboot the franchise? Is it a modern remake? Matt Tolmach, the producer who has worked tirelessly to bring Jumanji: Welcome To The Jungle to the big-screen 22 years after the release of the beloved original, has finally revealed how the sequel connects to the first film. And it turns out that it is just another adventure from the Jumanji world. Tolmach said:
Matt Tolmach made the above remarks to me and a group of other film journalists during our visit to the set of Jumanji: Welcome To The Jungle in Hawaii last October. They're interesting for a number of reasons. The first is that Matt Tolmach heavily suggests that there's going to at least be some link to the film's past characters. Unless he's talking about a stunning cameo from Kristen Dunst, which would be sublime, the death of Robin Williams, and the adulation that is still felt towards the comedian, would lead me to think that Welcome To The Jungle will at the very least make an emotional reference to him.
Secondly, Tolmach's confirmation that this is just one of a number of Jumanji worlds suggests that Sony is hoping that this will blossom into its very own franchise, and spawn various sequels. Over the last eighteen months, audiences have become more much picky with their franchises, though, avoiding particular sequels and origin stories that simply felt like cash-ins or rehashes of similar films.
Jumanji: Welcome To The Jungle does not feel like that, though. Not only should the presence of Jack Black and Kevin Hart mean that it possesses a healthy amount of laughs, but The Rock is the biggest action star in the world, Karen Gillan is always superb, while the film's action, set-pieces, and spectacle look top notch, too. You can take a look at Jumanji: Welcome To The Jungle's trailer below to remind yourself of the aforementioned.
Jumanji: Welcome To The Jungle will be released on December 20.
Your Daily Blend of Entertainment News