The Cast Interrupted A Thor: Ragnarok Screening To Perform The Movie Live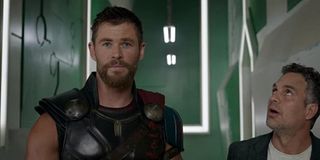 James Corden has brought the zany to late night. For the premiere of Thor: Ragnarok, he came up with a wackier plan than usual, though. He and many of the actors in the upcoming Marvel film decided to head to a movie theater that was screening Thor: Ragnarok, and then interrupt the showing by bringing out most of Ragnarok's main leads to reenact key scenes from the movie. If you haven't caught Thor: Ragnarok yet, there are some spoilers, but it's mostly relegated to stuff we saw in the trailers for the flick. Check out The Late Late Show with James Corden bit, below.
We see a brief shot of the opening of Thor: Ragnarok before James Corden interrupts the movie with an up-close shot of his face. Cut to the audience, an audience that is definitely not pleased at first that the new Marvel movie got interrupted by some chubby dude with a British accent. James Corden really drags it on, too, to make people squirm before finally introducing Chris Hemsworth, Tom Hiddleston, Cate Blanchett, Mark Ruffalo and Jeff Goldblum---all in cheesy Halloween-esque versions of their movie costumes. By the time Thor 4D commences, the audience seems to be all-in.
At one point, during this video, we see Tom Hiddleston discuss the practicality of Thor 4D, noting, that it may not really work out over the long haul, even if "director" James Corden is gunning for it.
Later in the event, Tessa Thompson, who plays new and seemingly bisexual character Valkyrie pops in and she, Thor, Loki and Hulk take on Hela, some blow-up dolls, and a stuffed dog to save the day. Again there's some light spoilers in this, like--spoiler--Thor being able to command lightning due to being the God of Thunder. Still, many of us have seen the lightning emanating out of Thor's body in promotional material, so I'm going to go out on a limb here and guess if you haven't seen the movie yet, most of this will still be funny and will look much more incredible on the big screen.
If you'd like to see the rudimentary-yet-adorable cast in their Thor 4D costumes, you can do so, below.
Thor: Ragnarok has already hit theaters, and we know a lot about what is coming with the film. If you'd like to pre-order tickets (opens in new tab) before this weekend's showings do so. Or stay tuned to The Late Late Show with James Corden on weeknights on CBS for more sketches of this ilk. Now, I really feel like I need to see the cast, in costume, doing a "Carpool Karaoke."
Amazing Race & Top Chef superfan with a pinch of Disney fairy dust thrown in. If you've created a rom-com I've probably watched it.
Your Daily Blend of Entertainment News
Thank you for signing up to CinemaBlend. You will receive a verification email shortly.
There was a problem. Please refresh the page and try again.