One Issue Kenneth Branagh Had With His Intense Murder On The Orient Express Mustache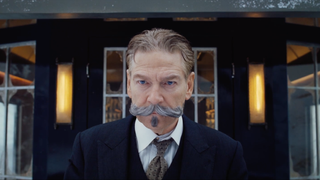 Kenneth Branagh had a lot to do during the making of Murder on the Orient Express. He actually pulled triple duty as the director, the lead actor and a producer on the big movie, but one of the things that gave him the biggest trouble was wearing Hercule Poirot's large mustache during the filming of the movie. In a recent interview, Branagh explained how his duel roles in the movie led to a lot of unfortunate moments when he caught the 'stache on inatimate objects. Per the actor and director,
If you have seen any of the previews for Murder on the Orient Express, you should already know that Kenneth Branagh's Hercule Poirot is sporting an intense mustache, one which fans of the popular Agatha Christie character have not really seen before. David Suchet is probably more known for his Poirot mustache, and his is black and shiny and very neat. From what Branagh told CBS News, sporting the bigger mustache not only looked different, it also was a whole lot bigger. Because or its shape and size, there were some ramifications, especially when he was serving dual roles.
The mustache is huge, but as Kenneth Branagh also mentioned to EW, it was precise. Everything about the thick, furry and very grey mustache was designed and proportioned by Carol Hemming, a makeup artist on Murder on the Orient Express. According to Branagh,
Sounds like a bit of a nightmare, but the end result is one of the coolest, most intricate and exciting pieces of movie facial hair I've seen on the big screen. In my book, it's up there with Kurt Russell's wild facial hair in The Hateful Eight or maybe Wes Bentley's carefully cultivated look in the Hunger Games movies. David Suchet or even Albert Finney may be the gold standard for the Hercule Poirot 'stache, but Kenneth Branagh's has its own thing going on.
You can take a lot of long and intense looks at the new Poirots facial hair when Murder on the Orient Express hits theaters on November 10. If you haven't take a look at the flashier, more modern take on the Agatha Christie original, check out the trailer. Plus, keep an eye on our full movies schedule.
Your Daily Blend of Entertainment News
Reality TV fan with a pinch of Disney fairy dust thrown in. Theme park junkie. If you've created a rom-com I've probably watched it.