See Three Of Quentin Tarantino's Hateful Eight In First-Look Photo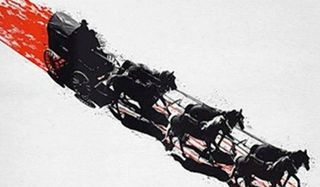 Admit it, you were a little bit disappointed when the first Hateful Eight trailer premiered last month but didn't show us any actual footage of Quentin Tarantino's posse. Well, all you QT-aholics out there can rest easy for the time being, because we've just been given our best look yet at three of the film's leading stars. And they look bloody spectacular.
Kudos to the folks over at Entertainment Weekly for the above image, and hopefully we'll be given our first glimpses of the rest of Tarantino's Hateful Eight posse over the next few days, maybe even hours, too. But for now let's sit back and digest the unveiling of Kurt Russell's John Ruth, aka "The Hangman," Samuel L. Jackson's Major Marquis Warren, aka "The Bounty Hunter," and Jennifer Jason Leigh's Daisy Domergue, aka "The Prisoner." In the "Who's Got The Coolest Nickname" game, Russell is clearly the winner.
In fact, looking at Russell, you can't help but immediately be intimated and intrigued by his character just from his elegant getup. Not only does his bountiful coat go perfectly with his waistcoat, pants and scruffy shirt, but don't even get me started on his gloves and mustache. Plus, the fact that it's Kurt Frigging Russell means that excitement for the character rises exponentially.
But it's not just Kurt Russell's decor that we should be devouring. Samuel L. Jackson and a battered and bruised Jennifer Jason Leigh look equally spiffing too. And while admittedly Jackson's mustache pales in comparison to Russell's, his steely mean gaze suggests that he will be just as bad-ass as ever. Let's face it, Quentin Tarantino has always been able to get the ferocious best out of Jackson, so there are plenty of reasons to be enthusiastic. Jennifer Jason Leigh's first foray into a Tarantino film also smacks of an inspired casting choice from the bombastic filmmaker, and there's a gritty determination in her look that suggests she is going to be up to all kinds of mischief.
Of course, these are only pictures, and we're all still pining for our first official footage from The Hateful Eight. But it's certainly enough to get the eager juices flowing, and the entire cinematic community is now waiting with bated breath for our first proper glimpses of Walter Goggins' Chris "The Sheriff" Mannix, Demian Bichir's Bob "The Mexican," Tim Roth's Oswaldo "The Little Man" Mobray, Michael Madsen's Joe "The Cow Puncher" Gage, and Bruce Dern's Gen. Sanford "The Confederate" Smithers.
Your Daily Blend of Entertainment News
Thank you for signing up to CinemaBlend. You will receive a verification email shortly.
There was a problem. Please refresh the page and try again.