How Many Justice League End-Credits Scenes Are There?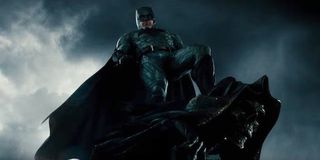 We now have only a week until Justice League finally debuts, which means new details have started to flow in about the long-awaited superhero epic. Rumors have swirled for quite some time about everything ranging from its runtime to possible villain cameos, and now it looks like we may have new information about whether or not the film features a post-credits scene. As it turns out, the film features not one, but two tags to round out its story. About the presence of multiple post-credits scenes, JoBlo's Paul Shirley took to social media and posted:
So, there you have it. Although the primary Justice League story will draw to a close when the credits roll, you should probably consider staying in your seats. We are going to get two different tags to cap off the first-ever Justice League movie, so all of you fans hoping for plenty of great DC content will need to stay put.
Of course, that raises particular questions about the nature of the two post-credits scenes in Justice League. Typically speaking, this type of content serves two different purposes: pure entertainment, or laying the groundwork for future stories. With that in mind, we could see a DC version of the shwarma scene from The Avengers, but we could also see something teasing an upcoming solo film like The Flash: Flashpoint or Aquaman.
The presence of post-credits scenes in DC movies has felt like a far less consistent phenomenon than anything seen over at the Marvel Cinematic Universe. While any Marvel movie can generally be expected to have at least one post-credits scene (in fact, Guardians of the Galaxy Vol. 2 had five), DC films have been hit or miss in that department. Suicide Squad featured a post-credits scene showing Bruce Wayne eating dinner with Amanda Waller, but Batman v Superman and Wonder Woman instead opted to release their additional content online to help get fans excited for the next DCEU adventures. Then there's Man of Steel, a film that only exists from the moment it begins and the moment the final credits start to roll.
That also means that we cannot know for certain whether or not this will become a running trope for DC moving forward. The inconsistency of post-credits scenes in the DCEU makes it impossible to tell if a film like Aquaman will also feature one of these tags. If that is the case, then you will not want to miss Justice League's.
Justice League will premiere later this month on November 17. Until then, make sure get your tickets (opens in new tab) for the highly-anticipated superhero blockbuster, and check out what critics had to say about the film after early screenings. Are you all in?
Originally from Connecticut, Conner grew up in San Diego and graduated from Chapman University in 2014. He now lives in Los Angeles working in and around the entertainment industry and can mostly be found binging horror movies and chugging coffee.
Your Daily Blend of Entertainment News
Thank you for signing up to CinemaBlend. You will receive a verification email shortly.
There was a problem. Please refresh the page and try again.