To 3D Or Not To 3D - Buy The Right Justice League Ticket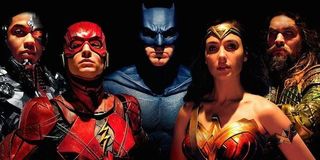 With the release of Zack Snyder's Justice League, 2017's superhero season has finally drawn to a close. DC's most iconic hero team has finally come together (right now, over me), and the stage has been set for new adventures for years to come. However, for all of the questions that we still have about the future stories that will be set within the current DCEU slate, one other primary question still remains: to 3D or not to 3D?
That's what we're going to discuss today. While you can also check out CinemaBlend's handy Justice League review amid all of the other critical reactions to get a sense of how the story and characters perform, today we will do a deep dive into a 3D screening to figure out if the extra money for a 3D ticket is worth your time. With that in mind, let's dive in and discuss if this is the type of movie that even needs the enhanced format in the first place.
A Justice League story involves scaling up the action and combining the abilities of several heroes into one massive narrative. That means ramping up the scope of the adventure, which instantly makes 3D a natural fit. Much like the other DCEU films that preceded it, Justice League feels like a movie that naturally lends itself to putting on those glasses and watching Gotham, Metropolis, and Themyscira come to life in grand fashion.
Justice League was shot on 35 mm 2D cameras and then sent out for the 3D post-conversion process after the conclusion of principal photography. This by itself isn't inherently a bad thing; after all, some great 3D movies have used post-conversion in the past. However, while a few (truly spectacular) shots in the film feel tailor-made to take advantage of the increased depth of field provided by a 3D conversion, the film's scale still feels relatively small compared to other superhero films of a similar ilk, and it's hard not to shake the feeling that well-constructed 3D sequences weren't at the forefront of anyone's mind during production.
The "Before the Window" category is really what most people think of when they think of 3D. It's the process of things or characters popping out of the screen and flying towards the audience. Justice League has quite a few of those moments during some of the more intense action sequences, such as the battle between the villainous Steppenwolf and the Amazons on Themyscira, but these moments are few and far between. While the film indeed does have sequences that take full advantage of this trait of the 3D process, it also leaves quite a few opportunities on the table.
While Justice League doesn't necessarily excel in the Before the Window category, it makes up for some of those shortcomings in the Beyond the Window category. We've already touched on this, but it's worth repeating: a Justice League movie is supposed to feel massive and sprawling, and the 3D definitely helps convey an enormous sense of scale by layering action elements in the foreground, middle, and background of a shot -- perhaps most notable in the sewer battle against Steppenwolf and the Parademons. Aside from the action, the 3D also helps add remarkable depth to more static shots of characters standing over a city in a way that feels ripped straight from the pages of DC Comics.
The importance of brightness can not be overstated in the world of 3D movies. Lighting is already essential for constructing a proper sequence, but it becomes even more pronounced when the image is designed to pop off of the screen. For Justice League, this can be somewhat hit or miss. The film is generally brighter than most of the DC films that preceded it (it's so much brighter than Batman v Superman or Suicide Squad), but some nighttime scenes skew a little darker than audiences might appreciate. It's mostly solid, but there are a few scenes that are jarringly too dark for 3D.
The "Glasses Off" test is essential whenever you assess the quality of a 3D film. When all is said and done, you should see a reasonably blurry (although the nature of the blur can change at various points throughout the movie) image to tell you that the 3D footage is doing its job. While Justice League is generally blurry throughout its runtime, there were moments in which I wasn't even sure if I was in a 3D showing of a film. An oddly significant portion of this DC film's quieter moment are shown with little to no blur at all, and it wastes valuable real estate that could've gone towards a more significant use of the technology.
The "Audience Health" category is a tricky nut to crack because your own mileage may vary, but in general, Justice League is a reasonably coherent 3D film that doesn't really cause much motion sickness. The darker sequences (the Atlantis scene being a prime example) in the movie can sometimes cause a bit of strain on the eye, but the presentation of the action sequences is generally smooth enough to avoid wearing out your retinas. It's no secret that some of us have to walk out of 3D movies rubbing our eyelids when the Audience Health score is low, but Justice League is pretty easy to manage from an eyestrain point of view.
All in all, when compared to the other comic book movies that debuted in 2017, Justice League seems like one of the few that definitely doesn't require the 3D format to deliver its particular brand of thrills. The 3D in this DC team-up has its moments, but it's not going to knock your socks off in any significant way. If you're a die-hard 3D buff, then it's worth your time, but casual audiences might be better off sticking to standard 2D.
Beyond that, make sure to check out all of our past and future 3D assessments to make sure that you make the right call when the time comes to buy your tickets.
Your Daily Blend of Entertainment News
Originally from Connecticut, Conner grew up in San Diego and graduated from Chapman University in 2014. He now lives in Los Angeles working in and around the entertainment industry and can mostly be found binging horror movies and chugging coffee.
Your Daily Blend of Entertainment News
Thank you for signing up to CinemaBlend. You will receive a verification email shortly.
There was a problem. Please refresh the page and try again.