This Rotten Week: Predicting Star Wars: The Last Jedi And Ferdinand Reviews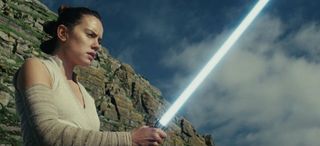 We've got a huge one this time around with the much-anticipated Star Wars: The Last Jedi, which would be more than enough movie on its own. But for the kiddies, there's also Ferdinand. It's pretty obvious which one is going to win out box office-wise, but there remains the question of which will be viewed as the better film by critics.
Just remember, I'm not reviewing these movies, but rather predicting where they'll end up on the Tomatometer. Let's take a look at This Rotten Week has to offer.
It's finally here. Two years after we last saw Rey landing on Ahch-To and coming face-to-face with Luke Skywalker, it's time for the third trilogy's second act in Star Wars: The Last Jedi. There are so many reasons to get excited about this next installment. Rey developing her powers. Kylo Ren post-patricide. Insight into Supreme Leader Snoke. Finn and Poe getting chummier. Porgs. And so much more! It probably won't feature too many firm conclusions, given its position franchisee-wise, but it's the journey that counts, and the anticipation of this movie is off the charts.
The world premiere of Star Wars: The Last Jedi was held in Los Angeles last night, and the response seems overwhelmingly positive. Rian Johnson's most recent effort was 2012's Looper (93%), but his smaller efforts include Brick (80%) and Looper (66%). He clearly has a run of getting thumbs up from critics, and this one looks like it will be a critical darling and a box office mega-cash cow. I suspect this finishes in line with Star Wars: The Force Awakens (93%) and has us sitting with bated breath waiting for the conclusion to the greatest franchise story ever told.
In Ferdinand, we get the story of a happy-go-lucky, pacifist bull captured because he's thought to be a dangerous beast. While this might have societal overtones, here's hoping it's just a fun story about a bull looking for his way home and nothing more.
Blue Sky Studios has a generally positive (though slightly flawed) critical track record. Sure, there's Epic (64%), Rio (72%), Horton Hears a Who! (79%) and The Peanuts Movie (87%). But they're also rostering Ice Age: Collision Course (15%), Ice Age: Continental Drift (37%) and Rio 2 (46%). If anything, it looks like the sequels get them in trouble. Director Carlos Saldahana has helmed a better portion of the Blue Sky catalogue (also for better and worse), but I think this latest ends just a little on the better side. It looks like a cute enough story, and I can't imagine the feel-good aspects go completely off the rails. You could say I'm "bullish" on its chances.
I missed on the one movie last week, specifically Just Getting Started (Predicted: 32% Actual: 11%). I had the gestalt of the reviews correct, in that this movie looked terrible, and it was. And yet I was still high on the projection. A flick needs to be other-worldly bad to have this kind go cast and finish with this low of a score, but Just Getting Started pulled it off easily.
Next time around we've got Downsizing, Father Figures and Pitch Perfect 3. It's gonna be a Rotten Week!
Your Daily Blend of Entertainment News
Doug began writing for CinemaBlend back when Terminator: The Sarah Connor Chronicles actually existed. Since then he's been writing This Rotten Week, predicting RottenTomatoes scores for movies you don't even remember for the better part of a decade. He can be found re-watching The Office for the infinity time.