Why The Marvel Movies Need The Defenders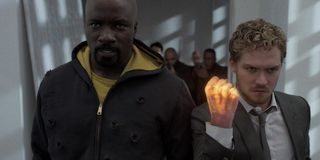 The Marvel Cinematic Universe is an unprecedented creation of pop culture. Beginning with Iron Man in 2008, the film franchise has turned into a sprawling universe of movies that all interconnect in weave into one another -- culminating in next year's release of Avengers: Infinity War. However, there's one glaring portion of the MCU that has remained almost entirely insulated from the films so far: The Defenders.
While Daredevil, Jessica Jones, Luke Cage and Iron Fist have clearly found comfortable homes on Netflix (opens in new tab), it's growing increasingly clear that they may be needed elsewhere in the Marvel Cinematic Universe. On that note, we're going to dive in and discuss why this special superhero team needs to make the jump into the Marvel films as soon as possible.
There's An Appetite For R-Rated Superhero Movies
It seems safe to assume that superhero blockbusters will almost always rely on the endlessly malleable PG-13 rating to bring mass audiences into theaters. Having said that, recent years have also proven that there's a definite audience for R-rated comic book movies on the big screen, and not just in the more leniently-rated streaming world. Films like Logan and Deadpool were both made for comparatively meager budgets compared to their bigger brethren, and audience enthusiasm for that more brazen form of storytelling translated to some big box office wins for the X-Men universe. Marvel could do the same by bringing the Defenders characters onto the silver screen, and as a result play into a trend of more adult-oriented filmmaking that appears to be taking shape.
The Defenders' Future On Netflix Is Uncertain
One major behind-the-scenes factor that needs to be addressed in a conversation about a possible transition to the big screen for The Defenders is the fact that we don't necessarily know what's going to happen to them in the near future. Reports about Disney launching their own streaming service seem to suggest that the entertainment giant is pulling its properties off of Netflix in preparation of the launch of its own dedicated platform, but it remains unclear if that's definitely the plan. If that does end up being the case, then the transition away from Netflix could represent the perfect opportunity to graduate Daredevil, Jessica Jones, Luke Cage and Iron Fist onto the big screen as other television content starts to get launched. Nothing is set in stone yet, but this could be a clear path to making something work.
The Defenders Have A Built-In Fanbase
Over the last decade, Marvel Studios has had great success adapting relatively obscure characters like Iron Man and Thor. That model doesn't show any sign of slowing down anytime soon, but the sheer amount of fanfare and overall enthusiasm for The Defenders shows how much goodwill there is for characters like Daredevil and Luke Cage to join the big screen party as well. In the same way that the Marvel/Sony deal for Spider-Man caused a massive wave of excitement among Marvel fans, so too could the decision to bump The Defenders heroes up to feature world. Beyond that, with characters like Cap and Tony Stark possibly exiting the MCU after The Avengers 4, keeping favorite heroes in the mix feels like an obvious course of action.
The Defenders Can't Keep Ignoring The New York Action
While the Defenders live in the same New York occupied by heroes like Iron Man, Spider-Man, and Doctor Strange, you wouldn't know it by only watching the Netflix shows. Whether it's The Hand's plan to destroy the city, or Vulture's heist from Avengers HQ in Spider-Man: Homecoming, the events that take place in one Marvel medium don't appear to be taking place in another. This problem is only going to get worse when Thanos comes to town in The Avengers: Infinity War, as the trailer has suggested the global hub will be a hot spot of action. At this point, the two need to coalesce just for the sake of continuity.
The MCU Isn't Complete Without Them
Marvel Studios has done a phenomenal job of building a cohesive world of superheroes on the big screen without requiring too much crossover between properties like Spider-Man and Daredevil. However, as long as the Marvel Netflix properties remain separate from the Avengers films, the Marvel Cinematic Universe can never be truly complete. There's just too much DNA for these New York-based characters (particularly shared connective tissue with villains like The Kingpin) to avoid crossing over with one another forever - and some of the best stories from the Marvel lore require these characters to know each other for proper adaptations to take place. Just think about how awesome it would be to see Vincent D'Onofrio's Wilson Fisk meet Tom Holland's Spider-Man and then try to tell us that we're wrong.
This poll is no longer available.
Your Daily Blend of Entertainment News
Originally from Connecticut, Conner grew up in San Diego and graduated from Chapman University in 2014. He now lives in Los Angeles working in and around the entertainment industry and can mostly be found binging horror movies and chugging coffee.
Your Daily Blend of Entertainment News
Thank you for signing up to CinemaBlend. You will receive a verification email shortly.
There was a problem. Please refresh the page and try again.