This Star Wars Spoof Trailer Shows Us What A Galaxy Far, Far Away Looks Like In An Indie Movie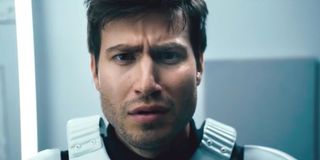 Although you can count on the Star Wars saga to explore deeper themes and ideas, these movies are chiefly blockbusters, what with all the lightsaber duels, space battles and all the other events that cause explosions. But what would a smaller, less action-oriented Star Wars movie look like? What if instead of following along with heroes who hold the fate of a galaxy far, far away in their hands, we instead explored a romance between individuals from two different worlds, figuratively and literally? Now you get an idea of how such a story would unfold thanks to the spoof Star Wars trailer below.
If any of you have ever been interested in the prospect of a Star Wars indie movie, the folks over at Funny or Die have you covered with this faux preview for Storm: A Star Wars Indie. Our two main characters in this tale are Ian, a human who splits his time between caring for his sick father and enduring his dead-end career as an Imperial stormtrooper, and Teedo, a Rodian bounty hunter. These two meet in a Tatooine cantina, and before you know it, they're in love. But with this love comes tragedy, including Ian and Teedo's relationship hitting a few obstacles, Ian's father being afflicted with Space Cancer and the Rebels attacking the Imperial base where the central couple are having an argument. Basically, this is Star Wars mixed with Brokeback Mountain, making it prime indie movie awards fodder.
Besides the more intimate storyline compared to the real Star Wars movies, what really sells Storm: A Star Wars Indie as an intergalactic indie movie, and thus makes the video even more amusing, is the overly dramatic music and the praise from critics and professional outlets. Hell, this flick was even made an Official Selection at the Sundance Film Festival. Alas, you shouldn't get your hopes up of ever seeing a Star Wars movie like this hit theaters. Sure, Lucasfilm has more standalone Star Wars stories on the way, but as mentioned earlier, this movies will always be action-driven first. A love story between a human stormtrooper and an alien bounty hunter just isn't going to cut it at the December box office. So for those of you who want to see how Ian and Teedo's story ends, you'll need to draft your own fan fiction conclusion. Feel free to award yourself some fake Oscars for the effort, too. I imagine Storm: A Star Wars Indie would at least walk away with Best Original Screenplay.
The Star Wars saga continues for real with the release of The Last Jedi tomorrow evening/Friday, with Solo: A Star Wars Story following on May 25, 2018 and Star Wars: Episode IX on December 20, 2019. As for what other legit movies will come out over the next year, go to our 2018 premiere guide for that information.
Connoisseur of Marvel, DC, Star Wars, John Wick, MonsterVerse and Doctor Who lore. He's aware he looks like Harry Potter and Clark Kent.
Your Daily Blend of Entertainment News
Thank you for signing up to CinemaBlend. You will receive a verification email shortly.
There was a problem. Please refresh the page and try again.