Why This A-List Director Said No To Brokeback Mountain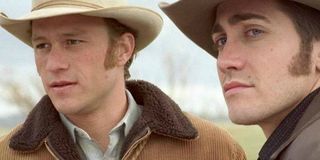 Brokeback Mountain is now rightly regarded as one of the best films of the new millennium. But its lasting popularity and beauty wasn't always so obvious. In fact, a number of directors, actors and studios flirted with the project before Ang Lee, Jake Gyllenhaal, and Heath Ledger took the plunge and actually made the film. One such name was Pedro Almodovar, who has now admitted that he was one of the directors who decided against adapting Brokeback Mountain for the big screen - but only because he didn't believe his highly-sexualised version would be approved by a studio.
Almodovar, who is widely regarded as one of the most thought-provoking and visceral filmmakers to have ever stepped behind the camera, made his comments while talking to the Financial Times. The Spanish director admitted that he turned down the chance to direct Brokeback Mountain because of he still had his doubts about working within the constraints of a Hollywood studio. Almodovar stated that his film would have been drastically different to Ang Lee's version, teasing that his incarnation of the film would have been much more physical and sexual than the feature that wound up being nominated for Best Picture in 2005. In fact, he admitted that he wanted to go beyond the characters sleeping together once. And even though the studio had promised him "total artistic freedom and final cut," he is certain that if he'd proceeded with his idea for the film they wouldn't have let him release it in the way he envisioned
Pedro Almodovar hasn't been enticed to make a Hollywood film, despite being courted by the studios for decades now. This was especially the case after the success of 1999's All About My Mother and 2002's Talk To Her, which landed him the Academy Awards for Best Foreign Language Film and Best Original Screenplay, respectively. This led to him being offered Brokeback Mountain, and even though he had "many doubts" about making the film at the time, Pedro Almodovar admitted that he still isn't sure if he actually made a mistake in turning it down.
Despite this revelation, Pedro Almodovar admitted that he still liked Ang Lee's "version very much," before adding that he believed the Taiwanese filmmaker "went as far as he could." It's safe to say that Pedro Almodovar's hesitation was Ang Lee's gain, because at the 2006 Academy Award ceremony Lee was presented with the Best Director award for his work on Brokeback Mountain. And while Ang Lee's decadently romantic, yet still truly heart-breaking take on Annie Proulx's short-story fully deserved this accolade, it's hard not to be intrigued by Pedro Almodovar's proposed version of the film. The idiosyncratic director's films always perfectly blend melodrama and pop culture with themes of passion, desire and identity, all of which would have perfectly lent itself to Brokeback Mountain.But in the end, I suppose Ang Lee's Oscar-winning version will just have to do.
Your Daily Blend of Entertainment News
Thank you for signing up to CinemaBlend. You will receive a verification email shortly.
There was a problem. Please refresh the page and try again.