How One Disney Rep Feels About The Audience Reaction To Star Wars: The Last Jedi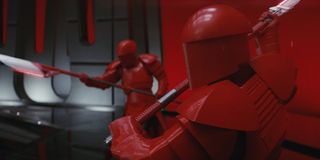 WARNING: Spoilers ahead for Star Wars: The Last Jedi. So do not read further until you have seen the film.
What a difference a week makes. Before the premiere of Star Wars: The Last Jedi, fan excitement was at a fever pitch. The prospect of having our questions finally answered and seeing Luke Skywalker back in action was every Star Wars fan's dream. All of this under the guiding hand of Rian Johnson, a filmmaker with legit indie cred who wouldn't just ape Empire Strikes Back. It seemed too good to be true, and for some, it was. Star Wars: The Last Jedi has proven extremely divisive among the fanbase. Fans unhappy with the film have taken their frustration out with negative user reviews online. This fan reaction has proven to be quite the story, and Disney president of theatrical distribution, Dave Hollis, responded to this, saying:
If Dave Hollis is correct about one thing in his statement to Deadline, it's that The Last Jedi does indeed have people talking. Good or bad, vocal reactions are a sign of investment in the franchise. But I do wonder if Disney had any inkling that this reaction was coming. The studio was clearly confident in the film and let Rian Johnson put his vision on screen without meddling with it. Lucasfilm enjoyed The Last Jedi and working with Rian Johnson enough to award him the captain's chair on an all-new trilogy. While Disney is enjoying a huge box office success, it is undoubtedly paying close attention to this reaction to the film. Star Wars is the crown jewel of Disney's corporate portfolio, and a negative fan reaction to a saga film will not go unnoticed.
This is a Star Wars film unlike any we have seen, and for some fans, it is simply a bridge too far. The Last Jedi is a lot to take in, and while some may find it takes the franchise in a fresh and bold new direction, others feel it has lost its identity. We have written about the biggest complaints Star Wars fans have with the film, and I imagine we will be discussing this until Episode IX hits. There is simply a lot to unpack with this issue. The first thing to consider is that The Last Jedi has an 'A' CinemaScore and an overall positive 89% ComScore. These are audience exit polls that are statistically accumulated and conducted scientifically. So these numbers are not influenced by online silliness. Now of course those leaving the theater on opening weekend are the most likely to be enthusiastic about a film and to rate it highly. That's why low CinemaScores are so rare. The film is also a critical darling with a 93% certified fresh rating on Rotten Tomatoes.
Where things get murky is when it comes to user scores. The Last Jedi has a 5 user score on Metacritic and a 7.9 on IMDB. The Audience Score on Rotten Tomatoes is 56%, although that may not be legit. It is important to note here that as far as these user scores are concerned, most people don't take time to go online and make their voice heard unless they have a very strong opinion on the film. The average moviegoer is not the kind of person who reads movie news or votes on Rotten Tomatoes. Those who are upset and disappointed in the film are the most likely to vote it down in user reviews. So it is likely that the mixed user reviews are in large part due to a small, but vocal, online contingent.
There is no good answer here and no pleasing everyone. Some say The Force Awakens was too much of a rehash and other say The Last Jedi is too different from Star Wars. Certain fans don't want cookie cutter studio fare, but when the studio is hands off, they reject an auteur's vision of Star Wars. Many of the complaints stem from the fact that J.J. Abrams and Lucasfilm had no roadmap. But then again, George Lucas didn't have a three-movie plan for the original saga either, and fans like those alright. Rian Johnson didn't have to answer the questions fans have been debating for two years because there were no answers. There was no firm answer to Snoke's identity or Rey's lineage. Rian Johnson's film wasn't concerned with giving concrete answers to our questions. Every choice that was made was done so to inform character and not to validate fan theories or build mystery boxes to be opened in Episode IX.
I'm sure we will be debating this film for years to come. It's always best to give something a second viewing before forming a final opinion. Star Wars: The Last Jedi is in theaters now. After you've seen the film, come back and let us know what you thought.
Your Daily Blend of Entertainment News
Nick grew up in Maryland has degrees in Film Studies and Communications. His life goal is to walk the earth, meet people and get into adventures. He's also still looking for The Adventures of Pete and Pete season 3 on DVD if anyone has a lead.
Your Daily Blend of Entertainment News
Thank you for signing up to CinemaBlend. You will receive a verification email shortly.
There was a problem. Please refresh the page and try again.