One X-Men Character We Hope Doesn't Get Lost In The Disney-Fox Shuffle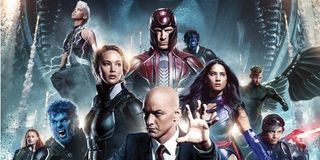 If you have kept up with the business side of the entertainment industry, then you likely already know about the landmark deal that recently occurred. Disney purchased 21st Century Fox for a whopping $52 billion, and The Mouse now has access to an insane number of Fox properties. This development has led to concerns over how the X-Men franchise could change as pieces of it slowly become incorporated into the Marvel Cinematic Universe, and while some projects are expected to fall through the cracks, we're here today to talk out why Dafne Keen's X-23 shouldn't get lost in the shuffle.
Fans knew X-23 would make her grand debut in Logan, but few could've expected the impact that she would have on 2017's slate of comic book movies. Though Hugh Jackman and Patrick Stewart rightfully took top billing in the final solo Wolverine film, Dafne Keen tapped into the same animalistic tendencies that made Jackman an icon as Wolverine, and she delivered an equally thrilling performance as a young girl coping with her lethal history and abilities. There has been ample talk of an X-23 solo movie to continue the story established by Logan's ending, but the nature of the Disney-Fox deal seems to indicate that this project has become one of the X-Men properties that likely won't make it into the MCU.
To us, that feels like a fatal error by the folks over at Disney. As of right now, there is no other superhero quite like X-23 in any notable superhero franchise. Yes, Marvel has Tom Holland's Peter Parker, and Spider-Man: Homecoming is a delightful PG-13 examination of a teenage superhero life, but there's a unique opportunity to explore the darker side to that concept. Not since the Harry Potter franchise has a studio been presented with an opportunity to allow an actor (and by extension, a character) to grow up and age in front of audiences in a big budget franchise. Hugh Jackman had 17 years as Wolverine before he walked away, but Ms. Keen could conceivably stick around for decades as the most vicious and deadly female anti-hero that the comic book movie genre has ever seen.
Perhaps more importantly, Dafne Keen's X-23 is a simply breathe of fresh air with regard to the visuals that her powers bring to the table. Yes, she's a clawed badass just like Wolverine, but her size, agility and ferocity are notably distinct from anything seen from Hugh Jackman's Wolvie over the last 17 years. She's a nimble little fighter who knows how to let out a ferocious scream, and the fact that she's only going to grow means that we will be able to watch how the action changes as she becomes a fully-grown woman with a set of adamantium claws. Screw recasting Wolverine and rebooting; the development of X-23 as an action hero is what we want to see!
Just look at the speed and skill showcased in her climactic battle against X-24 at the end of Logan.
We already know that Disney isn't entirely averse to maintaining the R-rated integrity of certain X-Men characters. In fact, when speaking about the Deadpool franchise, Disney CEO Bob Iger admitted that Disney would be willing to keep Wade Wilson's franchise R-rated, as long as the studio's marketing team can keep audiences aware of the R-rating. If that holds true, and if viewers show Disney that they want to see more of Laura's unflinchingly brutal tactics, then keeping her around could merely be a proper business decision. After all, as Deadpool showed us, R-rated comic book movies can still make insane amounts of money.
Things are undoubtedly going to change between now and the moment at which the X-Men can realistically cross over into the Marvel Cinematic Universe. All evidence seems to point to Dafne Keen's Laura becoming one of the casualties in that transition, but it is our sincere hope that the folks at Disney can find a place for her in the shuffle.
This poll is no longer available.
Your Daily Blend of Entertainment News
Originally from Connecticut, Conner grew up in San Diego and graduated from Chapman University in 2014. He now lives in Los Angeles working in and around the entertainment industry and can mostly be found binging horror movies and chugging coffee.