Daredevil Season 2 Just Topped The Hallway Scene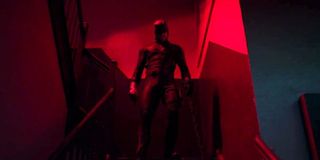 It took just two episodes for Daredevil to completely blow us away with the brilliance of its fight choreography in its first season. As any fan will tell you, the end of the show's second hour - titled "Cut Man" – features one of the most bombastic and impressive action sequences we've seen in the Marvel Cinematic Universe, finding the titular character beating the tar out of a group of Russian gangsters in a hallway sequence captured in what's edited to look like a single shot. This skillful scene truly raised the bar for the show – which is why it's so incredibly exciting that Season 2 has a battle that tops it.
SPOILER WARNING: The following story features spoilers for the third episode of the second season of Daredevil. If you have not watched to this point, and don't wish to be spoiled, please click away to another one of our wonderful articles!
The third episode of Daredevil's second season is easily one of the best hours that the show has created – and while that would be true if it were nothing more than the scenes of rooftop interplay between Daredevil (Charlie Cox) and The Punisher (Jon Bernthal), it also happens to come to an end with the most amazing mix of choreography and cinematography that the series has delivered yet. After successfully subduing his lethal, gun-toting opponent, The Man Without Fear starts to make his way down through the building, but finds interruption and danger when the Dogs of Hell motorcycle club starts charging up to his level to get revenge for their destroyed bikes. After this group makes the mistake of roughing up the building's innocent super, Daredevil begins doing what he does best – and in another sequence made to look like one continuous shot, the hero begins taking out bikers while also making his way down the high-rise's many flights of stairs.
Lasting for nearly a full four minutes, the sequence is unbelievably intense – and while the various cuts are not quite as invisible as the aforementioned "Cut Man" fight, it also ups the ante and comes together as the best action we've seen from Daredevil yet. Director Marc Jobst leaves you feeling every single punch, jab, kick, and impact, and with the superhero's hands filled by an empty gun and a metal chain, respectively, the ways things play out offer crazy moves from the protagonist unique to the moment. It's jaw-dropping, and entertaining to the point where you very well may find yourself actually laughing.
Not only does the sequence up the ante from the similar fight in Season 1 in terms of length and general challenge level, but it also has the distinction of featuring a lot more of star Charlie Cox performing his own stunt work in character as Daredevil. Earlier this week I spoke to the actor on a conference call and when I took the opportunity to ask about the Episode 3 finale, he revealed why it was a particularly important moment for him:
Charlie Cox further revealed there was some initial hesitance about even attempting to one-up the "one-shot" hallway sequence from Season 1, but the actor ultimately put his trust in the stunt coordinators. It was shot over three days of production in the middle of Summer 2015, with the actor boiling in his superhero costume. It took a great deal of hard work, but it also paid off magnificently – and it's the moment that Cox was most excited for fans to see going into Season 2 of Daredevil .
Of course, as greedy, entertainment-hungry audience members, we're left asking a big question: how are they going to top the one-shot sequence if there is a Season 3? Perhaps a legitimate eight-minute take that finds Daredevil fighting in a building, on the street, in a vehicle, and beyond? Our expectations have certainly been raised.
Daredevil Season 2 is now available to watch on Netflix (opens in new tab).
Your Daily Blend of Entertainment News
Assistant Managing Editor
NJ native who calls LA home and lives in a Dreamatorium. A decade-plus CinemaBlend veteran who is endlessly enthusiastic about the career he's dreamt of since seventh grade.