New Photos Indicate An X-Man Is Going To Die In Dark Phoenix, Here's What We Know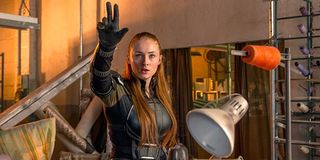 The following contains spoilers for Fox's X-Men series. You might want to back out now if you made it this far, and don't want to be spoiled.
Death is becoming a common occurrence in the X-Men franchise. When you have a deep bench, you can afford to knock off some bit players. That's why Havok (Lucas Till) sacrificed himself in the recent X-Men: Apocalypse, for example. But the deaths are becoming more significant -- watch Logan, for instance, to see the devastating deaths of two founding fathers of the series -- and this trend looks to continue in this year's X-Men: Dark Phoenix. Only, my theory is that the mutant being mourned in the above photo is Jean Grey (Sophie Turner), and she won't be alone in the Deceased Column when all is said and done.
The above image officially has been released by Fox in anticipation of Simon Kinberg's X-Men: Dark Phoenix, which reaches theaters in November. Note which members of the mutant superhero team are present, standing in the rain and mourning a dead teammate. We have Charles Xavier (James McAvoy) in his wheelchair. Cyclops (Tye Sheridan) has his back to us, while Storm (Alexandra Shipp) and Nightcrawler (Kodi Smit-McPhee) hold umbrellas and face the camera.
Who's missing? A few notable folks, all of whom might be in the grave. Beast (Nicholas Hoult) and Quicksilver (Evan Peters) are current team members who are absent from the shot. Mystique (Jennifer Lawrence) also isn't among them. But if I had to wager on the X-Man who is being mourned there, I'm saying that it's Jean Grey... and that this scene occurs fairly early on in the film.
We have been reporting a few early details about X-Men: Dark Phoenix from interviews that Simon Kinberg and his cast have given. We know that the team will be on an outer-space mission -- possibly a rescue mission -- when Jean (Sophie Turner) will be exposed to whatever turns her into the Phoenix. In the comics, it was radiation from a solar flare that threatened Jean's life, and summoned the Phoenix Force, creating a Jean Clone (it's complicated), and the new movie might take a similar approach. But I am willing to bet that Jean will "die" on that mission, and the X-Men will bury her, unaware that she's about to be "reborn" as the Dark Phoenix. That's why she's not in this shot. And that's why Fox released it, because it happens early in the film, and they aren't giving away a crucial death toward the end of the film.
That doesn't mean that I think Jean Grey will be the only death in X-Men: Dark Phoenix. And other ones, if they occur, likely will be of the permanent nature. We reported a while back that a member of the series will sacrifice themselves to stop Jean when she is in full Phoenix mode. Usually, this would be up to Cyclops or Wolverine -- if the series currently HAD a Wolverine. Because they don't, I'd place bets on Mystique bowing out (as Jennifer Lawrence has expressed interest in moving on from this franchise for some time). Perhaps it's Magneto in the grave, as Michael Fassbender also strikes me as an actor who doesn't need to reprise his role as the maniacal mutant. (But then, I don't think the X-Men would look so somber standing by the grave of an enemy we know really wouldn't stay dead.)
So, my guess is that we'll see the "death" of Jean Grey in X-Men: Dark Phoenix, only to have the powerful mutant reborn in the image of the Phoenix, an entity that will challenge the might of the combined X-Men and create problems for all of mankind. She'll have a funeral. Cyclops (Tye Sheridan) will mope. And she'll have a spectacular return... only, she won't be the mutant that the X-Men previously knew. And before they corral her, more X-Men will die. Agree? Disagree? Make your best guesses in the comments section below. And enjoy the rest of the official photos, shared by FOX, on the following pages.
Jennifer Lawrence returns for X-Men: Dark Phoenix as Mystique, the shape-shifting mutant who has spent the majority of the recent X-Men movies fighting WITH the superhero team (despite being a villain in the original movies).
These official photos from X-Men: Dark Phoenix confirm Jessica Chastain's character as Smith, though that's likely a pseudonym... unless she's a special agent tracking the Phoenix, and she is Agent Smith.
Sean O'Connell is a journalist and CinemaBlend's Managing Editor. He's frequently found on Twitter at @Sean_OConnell. ReelBlend cohost. A movie junkie who's Infatuated with comic-book films. Helped get the Snyder Cut released, then wrote a book about it.
Your Daily Blend of Entertainment News
Thank you for signing up to CinemaBlend. You will receive a verification email shortly.
There was a problem. Please refresh the page and try again.