No, The Shape of Water Didn't Plagiarize A Short Film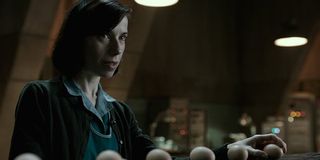 The 2018 Academy Awards nominations were announced today and Guillermo del Toro's The Shape of Water leads the pack with a whopping 13 nominations, including Best Picture, Best Director and Best Actress. This is a huge win for the film, which also nabbed another win earlier today. There was some concern that Guillermo del Toro's film bore more than a passing resemblance to Marc S. Nollkaemper's 13-minute short film The Space Between Us, which also features a woman working at a research center who falls in love with a fish creature. However, the Netherlands Film Academy, which produced the short, reviewed the matter and concluded that everything was aboveboard and there wasn't more than passing similarities to the short film. The NFA released a statement to that effect, saying in part:
The Netherlands Film Academy statement, as reported by IndieWire, notes that the filmmakers of both films met for a personal conversation where they discussed the inspiration for both films and the common roots in mythology. It is great to hear that everyone involved just sat down for a conversation and discussed the similarities person to person instead of waging an online finger pointing war. That says a lot in this day and age. This should hopefully clear up any doubts or qualms people had about The Shape of Water and allow them to enjoy what is a truly magical film. It would have been a true shame if the cloud of possible plagiarism had hung over the head of Guillermo del Toro's passion project as the home stretch to the Oscars begins.
Plagiarism can sometimes be a serious thing in Hollywood, and no one wants to see original works -- works that people put their heart and soul into -- poached for ideas to be repackaged and sold for profit. But it seems that was not the case here. If there is one thing Guillermo del Toro is known for it is his imagination; he has enough stories and creatures floating around in his head to fill a hundred lifetimes of films without needing to plagiarize from someone else. He's also generally open and asks for permission when he borrows ideas, as happened when he borrowed the gills idea from his star Sally Hawkins.
What makes The Shape of Water great and worthy of awards is not its groundbreaking originality. It succeeds because of how well its story is told, how emotionally acted and lovingly crafted. The film is very much a classic Beauty and the Beast tale meets Creature from the Black Lagoon. It is at its heart a fairy tale, and fairy tales are not known for their originality, they are meant to simply tell a universal story or teach a lesson. There are certain archetypal stories that speak to us as a species, they are universal and timeless, told and retold, across all mediums like in the oral tradition. So even though Guillermo del Toro and the filmmakers behind The Space Between Us may have told a different story, it's easy to see how some similarities may have bled through. In this case, this is not due to malfeasance, but to common interests and a shared human condition.
Nick grew up in Maryland has degrees in Film Studies and Communications. His life goal is to walk the earth, meet people and get into adventures. He's also still looking for The Adventures of Pete and Pete season 3 on DVD if anyone has a lead.
Your Daily Blend of Entertainment News
Thank you for signing up to CinemaBlend. You will receive a verification email shortly.
There was a problem. Please refresh the page and try again.