2018 Oscars: What We Thought Of Every Best Picture Nominee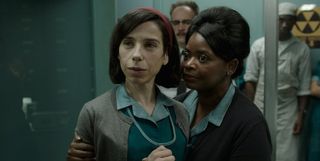 And then there were nine.
The Academy Awards announced their complete list of nominees or the 90th Oscars ceremony, which will be held on Sunday, March 4. In doing so, the Academy singled out nine films that will compete for Best Picture, ranging from Christopher Nolan's World War II epic Dunkirk to the harrowing social commentary of Jordan Peel's Get Out.
You wonderful people have been nice enough to follow CinemaBlend's coverage of all things film through the years, and 2017 was no different. We dove deep into all nine movie that proudly call themselves Best Picture nominees, hoping on board the Get Out train early and riding the wave of Phantom Thread right as 2017 drew to a close. Now that we have our Best Picture contenders, let's revisit our reviews, to see what we thought about the Academy's choices for the best of 2017:
Call Me By Your Name
Our review: Call Me By Your Name is the type of film you want to climb into, set up camp, and live inside for an extended period of time. By this rationale, it'd be the opposite of Jordan Peele's Get Out, a movie whose landscape you'd choose to avoid at all costs. Quite the contrary for director Luca Guadagnino's leisurely, lush and heartachingly romantic excursion, which beckons you into its frames with every visual cue, then lulls you into wanting to linger by weaving an embracing message of inclusion, of first-love experimentation, and of finding a way to be comfortable in our own skin, no matter how challenging that journey may seem.
Darkest Hour
Our review: Unlike Christopher Nolan's Dunkirk, which showcased a very different side of the same time period and events earlier this year, Darkest Hour isn't a war film built on explosions and spectacle, but it is stunningly gorgeous all the same. With due credit going to both the cinematography and production design, there is no shortage of elegance and magnificence in Winston Churchill's aristocratic home or King George VI's palace -- but the movie also offers up some perfect contrast with the stark, dark, greyness of the war rooms where the gravest and most important decisions are made about the future of the country. The persistent beautiful image of curling cigar smoke caught in sunbeams is the perfectly lit cherry on top.
Dunkirk
Our review: While no surprise given his track record, Christopher Nolan's Dunkirk is impressively ambitious. It is not only an extraordinary spectacle thanks to the extensive use of IMAX cameras (seriously demanding that it be seen on the largest screen possible), but it navigates a smart-yet-challenging non-linear path that plays out in three different threads -- all individually taking place over a different amount of time (specifically a week, a day, and an hour). Clocking in at only 107 minutes long, it's tightly paced, and end-to-end it is furnished with stunning sequences that leave you holding your breath.
Get Out
Our review: The great genre filmmakers recognize that horror's just a device for commentary, and while Get Out may look like everything is just painted on the surface, it's an impressively rich and powerful execution of a smart, scare-packed premise. It certainly takes cues from cinematic history, and could be elevator pitched as "The Stepford Wives meets Guess Who's Coming To Dinner," but with a playful sense of tone, amazing performances, and a sharp bite, it resonates with you long after you've left the theater.
Lady Bird
Our review: Ever since her debut in Atonement, Saoirse Ronan has been on a role when it comes to the leads she's scored in films like Lady Bird. In fact, all throughout writer/director Greta Gerwig's film, I was reminded that Ronan is an ace when it comes to portraying this particularly sensitive time in a young woman's life. She continues to captivate the screen with her acting skills, making both "Lady Bird's" sympathetic and more childish moments come to life without turning them into caricatures. While we can take issue with some of her actions and statements to those she knows and loves, we can never write off her character as a typical screen brat. It's a delicate line to walk with such a story, and Saoirse Ronan makes it look damned easy.
Phantom Thread
Our review: While Paul Thomas Anderson has presented an eclectic mix of tones and stories during his endlessly impressive career, Phantom Thread presents a stunning contrast of elegance and darkness, leading the filmmaker to aesthetically build something unlike anything we've ever seen from him. And the results are expectedly incredible. He keeps the argument of film over digital very much alive, and acting as his own cinematographer for the first time delivers scene after scene of visual splendor -- bathing the detailed work of uniformed seamstresses in angelic, soft white light and offering sinister, fire lit visions of the future through its non-linear narrative. You expect beauty in a film about fashion, and Anderson practically overwhelms you with it.
The Post
Our review: The Post, Steven Spielberg's exceptional new film about the vitality of journalism, might be his first movie to weave both genres together, pouring a valuable history lesson into a briskly paced race-the-clock political thriller that pushes all the right buttons we need in a crowd-pleaser. Shot and edited in a seven-month span, The Post boasts a stunning ensemble of extraordinary character actors sinking their teeth into a riveting screenplay, all choreographed by a genius filmmaker who is firing on all possible cylinders. The Post is the best movie I saw this year, and likely the most important movie you'll see in several years.
The Shape of Water
Our review: If you really wanted to, you could tuck yourself in for The Shape of Water and let the film tell you one of the best adult bedtime stories you've ever heard. With a poetry and rhythm that flows as strong as the currents of the world, Guillermo del Toro and co-writer Vanessa Taylor has brought us another film that pays homage to classic Hollywood, while existing firmly in a modern frame of mind. It's a story of romance crossing boundaries, of the outsiders teaming up to defeat the status quo, and of the true beauty of life available to all, so long as they choose to see it. This is the most beautiful film of the year, both in body and spirit, and it is not to be missed.
Three Billboards Outside Ebbing, Missouri
Our review: As much as folks are going to be talking about Frances McDormand come Oscar season, they'll more than likely speaking towards Sam Rockwell's portrayal of Officer Dixon. As his battle of wits with Mildred Hayes escalates to further levels of anger and one-upmanship, the events only serve to show just how alike both participants are when pursuing what they believe to be justice. In a lesser movie, we'd totally be on Mildred's side, but in Three Billboards Outside Ebbing, Missouri, we're forced to consider both sides of the matter, as the film shows us both sides in humane detail.
Sean O'Connell is a journalist and CinemaBlend's Managing Editor. He's frequently found on Twitter at @Sean_OConnell. ReelBlend cohost. A movie junkie who's Infatuated with comic-book films. Helped get the Snyder Cut released, then wrote a book about it.
Your Daily Blend of Entertainment News
Thank you for signing up to CinemaBlend. You will receive a verification email shortly.
There was a problem. Please refresh the page and try again.