Watch Channing Tatum And Jenna Dewan Adorably Flirt In Their Step Up Audition Video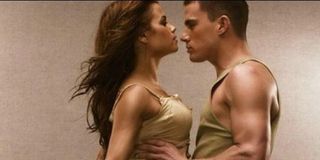 In the history of Hollywood couples, there are few as cute as Channing Tatum and Jenna Dewan Tatum. The stripper-turned-actor and dancer-turned-actress met on the set of Step Up, which hit theaters back in 2006. Recently, Dewan Tatum shared a video that gives us a look at the time the two were auditioning for the movie. It was a match made in heaven, but they didn't know it, yet. They did flirt up a storm, however. You can check out the fun video, below.
The video was filmed in 2005, when the movie that spawned a franchise was just starting to come together. It's easy to see how much chemistry Channing Tatum and Jenna Dewan Tatum had early on, even when they were just practicing dancing with one. Tatum notes at one point that the audience can count the times she "giggle[s] and laugh[s]" in the video, and while it's totally true, it's not obnoxious to see them chat it up about how Channing Tatum is actually a very capable dancer. In fact, it's very apparent that Channing Tatum and his now-wife were totally into each other from the very beginning.
In the video, Jenna Dewan Tatum reveals she was just sent her audition tape for Step Up, and she decided to highlight her tape online so it coincided with the release of Step Up: High Water, an original series that just hit YouTube Red and that stars Ne-Yo. Apparently, those involved with the production found her original audition tape, sent it to her, and she felt it was adorable enough to share with the world. Watching it is not a bad way to spend a few short minutes, that's for sure.
Step Up was a huge stepping stone for Channing Tatum and Jenna Dewan Tatum. Although Take the Lead came out the same year as Step Up, it was a much bigger gig for Jenna Dewan Tatum and it led to a lot of work in movies and on TV, where she has appeared in projects like Supergirl, American Horror Story and Witches of East End. Following Step Up, Channing Tatum embarked on what would become a huge movie career, appearing in the G.I. Joe franchise movies and Public Enemies and more recently starring in Logan Lucky, Magic Mike XXL and much, much more. (He's also set to be the lead in Gambit, if that ever gets off of the ground.)
Clearly, Step Up was a special production because it amped up the careers of its respective leads, but it will likely always hold a special place in Jenna Dewan Tatum's heart because it's the set she met her husband on. The couple married in 2009 and had their daughter Everly in 2013.
Amazing Race & Top Chef superfan with a pinch of Disney fairy dust thrown in. If you've created a rom-com I've probably watched it.
Your Daily Blend of Entertainment News
Thank you for signing up to CinemaBlend. You will receive a verification email shortly.
There was a problem. Please refresh the page and try again.