Channing Tatum's Marriage Advice Is Too Adorable For Words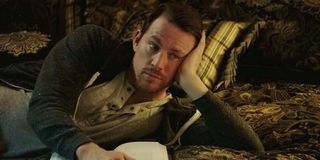 Channing Tatum and his wife, Jenna Dewan Tatum, have been together for 12 years, eight of which they have spent in wedded bliss. Now Channing Tatum has an excellent suggestion for anybody who wants to make a romantic relationship last as long as his, and the suggestion is absolutely adorable. According to Channing Tatum, the secret to success is giving one's significant other plenty of time to talk and then listening to what he or she has to say. The muscleman actor said:
That sounds like pretty sound advice. Furthermore, the comment Channing Tatum offered about all relationships being different seems spot on, too. There may not be any magic recipe to holding down a rock-solid relationship for a dozen years like Channing Tatum and Jenna Dewan Tatum, but listening seems like a fundamental component to any relationship -- romantic or otherwise.
The piece of advice the Kingsman: The Golden Circle star gave to the E! News correspondent who asked about his long-lasting marriage seems to correspond with what the actor's wife spoke about in a magazine interview earlier this year. Jenna Dewan Tatum indicated she and her husband, like people in other successful relationships, work hard to keep the romance alive as time passes. The host of NBC's competition series World of Dance talked about growing up together with Channing Tatum after they committed to each other during the filming of Step Up, and she intimated how important expression and listening have been when it comes to keeping their relationship on the right track.
In fact, in that interview, Jenna Dewan Tatum said she and her husband spend time apart for work, and it makes them miss each other so much that they feel more in love when they are together again. So, along with listening to each other, giving each other space sounds like a great piece of advice for all of the lovebirds out there.
In addition to listening to each other, Channing Tatum and Jenna Dewan Tatum must also enjoy listening to the sounds of nature. Apparently, the spouses celebrated their eighth wedding anniversary with a lovers' trip to a quiet, secluded spot at a secret wilderness site in Michigan. After the trip, Jenna Dewan Tatum posted some photos of the special place, but she later said that there was no internet access while they were on their vacation. So they must have done a lot of listening to each other while they were there.
Whether Channing Tatum and Jenna Dewan Tatum know it or not, they have great tips for relationships. Listen to your partner. Give your partner space. These two stars should write a guide to love and marriage. After all, it seems like they know how to keep things together in the romance department.
Your Daily Blend of Entertainment News
Thank you for signing up to CinemaBlend. You will receive a verification email shortly.
There was a problem. Please refresh the page and try again.