Why Black Panther Was Put On The Back Burner For A While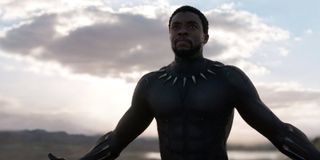 Considering how popular and successful Black Panther has been out of the gate, it's almost difficult to understand how the movie took so long to come to life. Why did the character spend so much time on the shelf? According to Black Panther producer Nate Moore, Marvel had been looking to make a standalone movie for the character as far back as 2010, but the first attempts at a script weren't working because the, then, standard format for introducing a comic book superhero just wasn't working for this one. According to Moore...
Back in 2010, Marvel would have been knee deep in origin stories for the Marvel Cinematic Universe. The franchise had seen the introduction of Iron Man and the origin story movies for Thor and Captain America would have already been in production. It seems that doing something similar for Black Panther just wasn't working, but when Captain America: Civil War came along, Marvel realized it could do the Black Panther introduction there, which meant, as Nate Moore tells the Empire Film Podcast (opens in new tab), Marvel could then follow it with a Black Panther movie that wouldn't need to be an origin story and thus could avoid the problems the earlier scripts had been having.
Needless to say, Marvel made the right choice. The studio could have pushed ahead and simply made a Black Panther origin story movie and dealt with issues to whatever degree was possible. Marvel had been finding its footing at that point and producing solid movies, so there's a decent chance the Black Panther origin story would have been good.
However, it almost certainly would not have been as good as the movie we got. Origin stories, by their nature, require a laser focus on their main character, which frequently means that successfully building other characters, villains, and the world in general, is quite difficult. Part of what makes Black Panther so good is the way that the film spends time making Wakanda feel real and giving other characters a chance to be fully realized. Such things would be quite difficult, if not impossible, in a straight origin story.
The one thing that probably worked in favor of Marvel waiting was the simple fact that Black Panther was not a widely known character by the non-comic reading movie fan, thus there wasn't necessarily a massive fan base waiting for the movie. That fanbase certainly exists today.
CinemaBlend's resident theme park junkie and amateur Disney historian. Armchair Imagineer. Epcot Stan. Future Club 33 Member.
Your Daily Blend of Entertainment News
Thank you for signing up to CinemaBlend. You will receive a verification email shortly.
There was a problem. Please refresh the page and try again.