Video Shows How Similar The Shape Of Water Is To Tom Hanks' Splash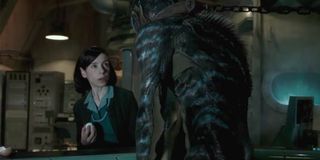 Now that awards season has come to an end, audiences have had the chance to refocus their attention on Best Picture winner The Shape of Water and take another look at it. The film has spurred a wide variety of emotions from audiences all over the world, but now it seems that the internet has really caught on to the sheer number of similarities that The Shape of Water shares with Ron Howard's 1984 classic, Splash. Don't believe me? Check out the video, below, to see the comparison for yourself.
Many fans made jokes about the comparisons to Splash when The Shape of Water first debuted last year. Both stories center on the idea of an average human (Tom Hanks' Allen and Sally Hawkins' Eliza) falling in love with an aquatic creature (Daryl Hannah's Madison and Doug Jones' Amphibian Man), so the comparisons make plenty of sense. Having said that, this video really hammers home how similar the two movies are with regards to the tentpoles of their respective narratives. Both involve characters arguing over the scientific validity of dissecting the amphibious creature, both feature sequences in which the hero smuggles the creature out of a lab under a sheet, and both end with underwater kisses as the couples choose to live their lives underwater. When laid out in front of us, it's uncanny to see how many similarities these films share.
Of course, one thing not addressed by this video is the sheer number of tonal differences that exist between Ron Howard's Splash and Guillermo del Toro's The Shape of Water. Splash is very much a romantic comedy and maintains a reasonably offbeat approach toward its story and the characters who inhabit it. By contrast, The Shape of Water plays out more like an R-rated fairy tale, with ample amounts of blood, violence, swearing, and a more fantastical, Universal Monsters-esque approach to its atmosphere.
With that said, one interesting thing to note following this The Shape of Water and Splash video is that there is another project for the Splash brand in the works. Specifically, there is a Splash remake currently in development with Magic Mike star Channing Tatum reportedly attached to portray the role of a mermaid, and Fist Fight actress/comedienne Jillian Bell set to take on the Tom Hanks role of the human who falls in love with him. Gender-swapping the original Splash premise arguably brings it even closer to The Shape of Water's story, so we will have to wait and see how the upcoming project will attempt to differentiate itself from human-fish love stories that are already out there in the zeitgeist.
What do you think of the comparisons between The Shape of Water and Splash? Let us know what you think in the comments and head over to our movie premiere guide to see what films are still on the horizon for the 2018 schedule.
Your Daily Blend of Entertainment News
Originally from Connecticut, Conner grew up in San Diego and graduated from Chapman University in 2014. He now lives in Los Angeles working in and around the entertainment industry and can mostly be found binging horror movies and chugging coffee.