Why Batman Used a Spear in Batman V Superman, According To Zack Snyder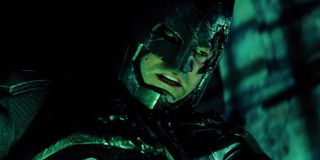 Zack Snyder's Batman v Superman: Dawn of Justice borrows a lot of imagery from Frank Miller's The Dark Knight Returns in the creation of the titular showdown between The Caped Crusader and The Man of Steel. That said, there's one visual element from the fight that Snyder definitely created for the film: the Kryptonite spear. Some have wondered why Bruce Wayne would use something so primitive when he has an arsenal of gadgets at his disposal, and Snyder has finally addressed those questions online by pointing out the relevance of the spear imagery to the film's crucifixion metaphor. Check out a recent post by the director, below.
So, it looks like Zack Snyder did not put a spear into Batman's hands just because it seemed visually compelling. In fact, the spear ties back into some pretty iconic biblical imagery of Jesus (represented by Superman in the film) being stabbed with a spear while on the cross. In the context of the movie, Batman is the unknown Roman soldier who stabbed Jesus with a spear (sometimes referred to as the "Holy Lance" or the "Spear of Destiny") during the crucifixion. In The Dark Knight Returns the Kryptonite comes into play when Oliver Queen fires an arrow laced with the substance at the Last Son of Krypton, but in Batman v Superman: Dawn of Justice's story, it looks like Snyder wanted something with a deeper biblical meaning while building to Superman's sacrifice during the battle against Doomsday.
This explanation offered up by Zack Snyder actually makes plenty of sense when we look at the sheer amount of religious imagery that pops up elsewhere in the film. Superman's godlike status stands out as one of the most consistent themes of the story, with characters like Lex Luthor routinely addressing him as a deity ("false" or otherwise) and the movie framing the blue-clad hero in several godlike shots. In fact, you can check out one of the film's most overt uses of biblical imagery, below, to see how Zack Snyder used other sections of the film to construct this narrative.
Add this explanation provided in Zack Snyder's recent Vero post, and it all makes quite a bit of sense. Batman v Superman is a film steeped in religious imagery, and over two years later we continue to uncover new elements of its deeper meaning. Now we just have to wonder where things will go from here. After all, Superman is now back in action after the events of Justice League; the god has returned, and it's now only a matter of waiting to see where the DC Extended Universe takes him next.
CinemaBlend will bring you more information related to all of the DCEU's best heroes and most highly-anticipated movies as further details become available to us. Until then, mark down your calendars for the release of James Wan's Aquaman, which will make a splash in theaters on December 21, 2018.
Your Daily Blend of Entertainment News
Originally from Connecticut, Conner grew up in San Diego and graduated from Chapman University in 2014. He now lives in Los Angeles working in and around the entertainment industry and can mostly be found binging horror movies and chugging coffee.