This Rotten Week: Predicting I Feel Pretty, Super Troopers 2 And Traffik Reviews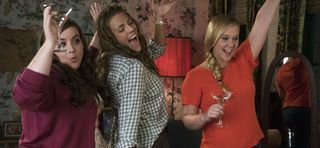 Next week is set to be one of the biggest weeks in blockbuster history, but before we get there we'll just have to bide our time with some Amy Schumer comedy, a follow up to a cult hit, and watching couples get stalked in the woods. Get ready for I Feel Pretty, Super Troopers 2 and Traffik.
Just remember, I'm not reviewing these movies, but rather predicting where they'll end up on the Tomatometer. Let's take a look at This Rotten Week has to offer.
Ah, to wake up tomorrow seeing yourself as something more in the likeness of what you suspect society wants/cares about. That's the general concept behind I Feel Pretty, in which Amy Schumer's character, suffering from low self-esteem and confidence, gets her head knocked and wakes up seeing herself in a whole new light. It looks like a Shallow Hal-esque take on "looking inward," and I get the idea that someone unencumbered from the modern trappings of societies labels can become "woke" and "free". And yet this looks like it just misses a beat in the message. I hope I'm wrong.
Screenwriting team Abby Cohn and Marc Silverstein venture into their first co-directorial work on I Feel Pretty after penning How to Be Single (47%), The Vow (31%), Valentine's Day (18%) and He's Not that Into You (40%). These aren't fantastic returns and considering they penned this latest as well, I'm not expecting much from the critics.
When Super Troopers first came out in the early 2000s, critics were not impressed with the raunchy laughs and ambling "story" about a hapless police force. It scored only 35%, and looked destined to be just a forgotten comedy. But it picked up a cult following and since then fans have waited anxiously for a follow up film. Fifteen years later, Mac, Farva, Thorny and the rest of the crew are back to their old ways in Super Troopers 2. Playing on the "border" debate so hotly contested in the States these days, the Troopers are on a new patrol.
Director Jay Chandrasekhar is back directing after helming Beerfest (41%), Dukes of Hazzard (14%) and Club Dread (29%) in the interim. Considering the nature of the laughs, and the other body of work, I can't imagine this latest ringing in too positively with critics. This is made for a very specific viewer, and while hardcore fans likely appreciate it, the broader community of professional critics will drive the score down.
These days, there's absolutely no upside to taking a long weekend at some remote cabin/house with no phone/internet access if you're a movie character. It's almost a guarantee that you'll fall victim to some kind of evil gang or monster eventuality. So why even bother? Still, it's what the leads of Traffik try to do, and they end up running afoul of a sex trafficking ring who are going to terrorize the whole group to death. It doesn't pay to get away.
Director Deon Taylor has a couple of other horror/ suspense movies under his belt with Supremacy (20%) and Chain Letter (29%). Both led with silly premises and failed to deliver. Traffik looks like more of the same. It likely goes through your typical, "suspenseful" beats without breaking any new ground. These kinds of movies come out all the time and are usually quickly forgotten, and I'm betting that is reflected in the critical response.
Oof. I was only one for three last week, though at least two of the misses were within the right "frame of mind" with the predictions. Rampage (Predicted: 37% Actual: 50%) was a near miss. Critics came in a little higher than I expected, and it was clear from the reviews that they were giving Dwayne Johnson something of a pass in the action-adventure mold. I'm not against this mind you. I think there's a place for these kinds of movies in the cinematic landscape. They just don't often land right in the middle of the Tomatometer.
Borg vs. McEnroe (Predicted: 77% Actual: 82%) was a win, though I had something of a head start with the reviews. Honestly, without some critics weighing in early I likely would have gone higher on this film. Think something like 90%. Still, it ends up being a critical hit following the story of two tennis icons.
Meanwhile, Sgt Stubby: An American Hero (Predicted: 55% Actual: 90%) was a huge miss. I thought it being something of a vanilla offering from a relatively new animation studio would have the reviews something in the meh range, but I was way off there. Critics took to this movie. It should be mentioned that Rotten Tomatoes only has 20 total reviews in, which is very low for a widely released film. If we got to 100 would we still see the score in the 90s? Almost definitely not.
Fnally, Truth or Dare (Predicted: 29% Actual: 15%) stunk, but I thought it would stink just a little less than the critics. Gimmicky horror flicks like this are almost always destined to fail. It looks like they came up with the title first and the outline for the movie second. That's never a great sign. Critics hated it, as to be expected.
Next time around The Avengers: Infinity War is finally here. It's gonna be a Rotten Week!
Your Daily Blend of Entertainment News
Doug began writing for CinemaBlend back when Terminator: The Sarah Connor Chronicles actually existed. Since then he's been writing This Rotten Week, predicting RottenTomatoes scores for movies you don't even remember for the better part of a decade. He can be found re-watching The Office for the infinity time.