Why Avengers: Infinity War Was Easier To Work On Than Age Of Ultron, According To Elizabeth Olsen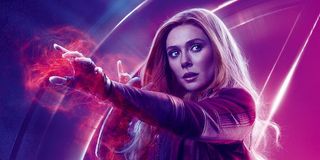 Thanks to Marvel Studios and 20th Century Fox sharing join custody of Scarlet Witch, the former studio fully introduced Elizabeth Olsen as the red-clad heroine in 2015's Avengers: Age of Ultron. Elizabeth Olsen reprised Scarlet Witch a year later for Captain America: Civil War, and two years later, we'll see her in action for a third time during Avengers: Infinity War. Comparing her time on Infinity War to Age of Ultron, Olsen found the next Marvel movie to be more enjoyable because it was a more comfortable experience. Olsen explained:
It doesn't sound like Elizabeth Olsen had a bad time working on Avengers: Age of Ultron by any means, but taking on a new role can be challenging, especially if you're joining a franchise that's been running for more than half a decade by that point and has a tight-knit core cast. Olsen, along with Aaron Taylor-Johnson, James Spader and Paul Bettany, were definitely the "new kids" in Age of Ultron. But with each passing movie, it becomes easier to perform the character, and with Avengers: Infinity War being her third MCU appearance (fourth if you count her cameo in the Captain America: The Winter Soldier mid-credits scene), Olsen finally feels she has a good grasp on Scarlet Witch and felt more at ease when both this movie and Avengers 4 were shooting last year. Olsen continued in her interview with Yahoo:
Following the defeat of Baron Strucker's HYDRA cell in the opening of Avengers: Age of Ultron, Scarlet Witch and her brother Pietro, a.k.a. Quicksilver, teamed up with Ultron to take down the Avengers, as the siblings were not fans of Earth's Mightiest Heroes because weapons built by Stark Industries ravaged Sokovia and killed their parents. However, upon realizing that Ultron was manipulating them to help bring about Earth's destruction, Scarlet Witch and Quicksilver set aside their differences with the Avengers and joined them, though Quicksilver died during the Battle of Sokovia. Wanda stayed with the team into Captain America: Civil War and start developing feeling for The Vision, but the passing of the Sokovia Accords saw the Avengers fracturing, and she allied with the anti-registration Captain America. But Scarlet Witch remains a hero, and when we reunite with her in Avengers: Infinity War, when she's not further exploring her relationship with Vision, she will help her allies push back Thanos' forces.
Avengers: Infinity War opens in theaters on April 27. Make sure to keep track of the other MCU project in development by looking through our handy guide.
Connoisseur of Marvel, DC, Star Wars, John Wick, MonsterVerse and Doctor Who lore. He's aware he looks like Harry Potter and Clark Kent.
Your Daily Blend of Entertainment News
Thank you for signing up to CinemaBlend. You will receive a verification email shortly.
There was a problem. Please refresh the page and try again.