How Tony Stark And Pepper Potts Resolved Their Differences, According To Robert Downey Jr.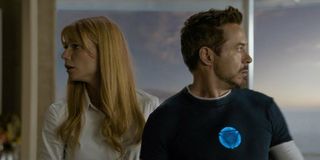 The most prolonged romance in the Marvel Cinematic Universe (if you don't count Steve Rogers' ill-fated, century-long love affair with Peggy Carter) is the one shared between Tony Stark and Pepper Potts. The seeds of the love affair were planted during the events of the original Iron Man, and fans have tracked them through good times and bad times. Now it looks like Avengers: Infinity War will see them back together after a rough few years, and according to Robert Downey Jr., they have worked out their differences by making long-term commitments to each other. The actor explained:
Things have really come around since Pepper and Tony took a break around the events of Captain America: Civil War. The couple hit a rough patch after the events of Iron Man 3 and Captain America: The Winter Soldier when Tony returned to The Avengers roster to help clean up the remnants of Hydra. From there, the events of Avengers: Age of Ultron happened, and Pepper could no longer tolerate his seemingly permanent commitment to Earths mightiest heroes. Now, however, it looks like Tony has finally come around, and he's ready to make his relationship with Pepper work.
Of course, fans who have kept up with Iron Man's most recent MCU exploits already know that there's reason to be optimistic with Tony and Pepper. Specifically, in the final moments of Spider-Man: Homecoming, we learned that Iron Man has every intention of proposing to Pepper and making her Mrs. Stark. Considering the fact that they seem to be happy together in Avengers: Infinity War, it looks like he may still feel that way about her. Luckily, as Gwyneth Paltrow similarly noted to ET, the actors seem to have the chemistry to deliver that romance in a believable way.
With all of that said, the love affair might come at a major cost. Marvel insiders have been bracing audiences for some significant moments and potential character deaths when Avengers: Infinity War finally hits theaters, so there won't be too much time to stop and watch Mr. Stark and Ms. Potts enjoy each other's company. Thanos is coming to town, and Tony will need to take charge if he wants to prevent The Mad Titan from getting his hands on the Infinity Stones.
Audiences will be able to see how Tony Stark and Pepper Potts have overcome their differences and once again become a proper couple when Avengers: Infinity War debuts this weekend on April 27. Make sure to check out the massive Marvel Cinematic Universe blockbuster when it finally premieres, and check out our reaction roundup to see what audiences already have to say about the movie.
Your Daily Blend of Entertainment News
Originally from Connecticut, Conner grew up in San Diego and graduated from Chapman University in 2014. He now lives in Los Angeles working in and around the entertainment industry and can mostly be found binging horror movies and chugging coffee.