Chris Pratt Has A Fantastic Response To Everyone Mad At Star-Lord After Avengers: Infinity War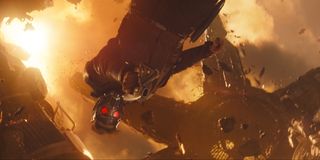 SPOILER WARNING: The following article contains major spoilers for Avengers: Infinity War. If you have not yet seen the film, please bookmark this page, and save the read until after your screening!
Right now, there are a lot of Marvel Cinematic Universe fans who aren't too happy with Star-Lord. After all, the guy made an epic mistake at the end of Avengers: Infinity War, and the principal consequence of his action was the death of half of sentient life in the universe. There's been a good amount of anger online, but based on his social media postings, Chris Pratt seems to be pretty okay with the way things turned out:
Chris Pratt used Instagram Stories to post these special five messages to fans, which read "I know you mad at Starlord because of what happened in the end. Well, I guess I''ll just go and... F myself" - accompanied by an image of two Star-Lord toys in a graphic position. Clearly the actor isn't taking the whole thing too seriously, and he's hoping that fans ultimately see things the same way. Plus, I like to think that this is exactly how Peter Quill would react to all of the online hate.
In case you've forgotten about Star-Lord's massive screw-up in Avengers: Infinity War, it happens right around the start of the third act in the movie, as he is engaging in a battle with Thanos alongside Iron Man, Doctor Strange, Spider-Man, Mantis and Drax. Using their combined powers and abilities, the heroes manage to lull the Mad Titan into a light sleep, and very nearly manage to get the Infinity Gauntlet off of his hand. Unfortunately, Star-Lord uses this opportunity to gloat, and it reveals an ugly truth: that Thanos killed Gamora in exchange for the Soul Stone. Unable to control his rage, Star-Lord begins to repeatedly punch Thanos in the head, which wakes him up just in time to catch the Gauntlet as it is slipping off his wrist. After that moment, the good guys ultimately don't get a win for the entire rest of the movie, and it dooms half of existence.
Star-Lord's reaction to the news about Gamora was unquestionably unwise, but in defense of the character, audiences do have to look at the big picture when looking at what he did. Between Guardians of the Galaxy and Guardians of the Galaxy Vol. 2, audiences got to witness all of two months of the relationship between Star-Lord and Gamora... but Avengers: Infinity War is set four years after those events. That's a long time for two people to be an intimate romantic relationship, and so the emotional outburst witnessed is legitimate. Was it foolish? Absolutely. But any of us would feel challenged to act differently in the same situation.
It should be noted that Star-Lord himself experienced a serious consequence for his action, as he was among those who faded away at the end of Avengers: Infinity War. But will he stay dead? We'll just have to wait and see when Avengers 4 finally comes around in May 2019.
NJ native who calls LA home; lives in a Dreamatorium. A decade-plus CinemaBlend veteran; endlessly enthusiastic about the career he's dreamt of since seventh grade.
Your Daily Blend of Entertainment News
Thank you for signing up to CinemaBlend. You will receive a verification email shortly.
There was a problem. Please refresh the page and try again.