Lars Von Trier's New Movie Has Animal Mutilation, Here's What PETA Has To Say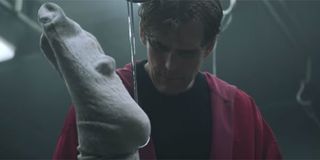 Lars von Trier's latest movie, The House that Jack Built, was only recently screened for the first time at the Cannes Film Festival, but it's already attracted notice due to the violent nature of the film, which follows Jack a serial killer. Starring Matt Dillon, the film is set across a dozen years in the life of a serial killer, and as such it features some graphic stuff. Among these graphic sequences are scenes where animals are mutilated, including a duck. PETA is usually up in arms about this sort of sequence, but in the case of The House That Jack Built, the organization isn't too up in arms. Here's PETA's full statement:
Serial killer violence is alarming, no matter what the context, but in the case of The House That Jack Built the movie obviously wasn't striving to actually hurt or misuse animals in any way. In fact, PETA said in a statement (via Bloody Disgusting) that it went out of its way to check into how stuff worked on Lars von Trier's latest film, and found that silicone parts were used during the duck sequence. The movie also reportedly features a second sequence with a tiger, and shots of animals feature prominently in the trailer for the movie.
What really seems to cook PETA's goose is when animals rather than CGI or the aforementioned "movie magic" is used to create scenes featuring animals. The animal-loving organization made headlines in 2017 after footage from A Dog's Purpose came out seemingly showing a German Shepherd being unhappy about filming in rushing water. The movie eventually responded, saying the footage didn't show exactly what it seemed to, and the movie went on to make $196 million worldwide at the box office. PETA has also been unhappy with Pirates of the Caribbean: Dead Men Tell No Tales, thanks to a monkey vomiting on set. PETA was also unhappy with a scene in Good Time, although that also seems to have been based on a misunderstanding, as well.
In the case of The House That Jack Built, it looks like PETA went a bit further to make sure it had all the facts before releasing a statement, and has decided the film did what it could to lesson the impact of the animal mutilation. Although if you are a lover of all things animals in the first place, the latest from Lars von Trier is likely not going to be a film you should bend over backward to see. In fact, the new trailer gives you a pretty good idea of the gruesome nature of the duck scene, and you can take a look, below. Be forewarned, it's fairly graphic.
The House that Jack Built was originally set up as a TV series, and while a movie has now been made instead, reports indicate that people even walked out of the Cannes Film Festival screening following graphic scenes in this movie. We'll have to wait and see how the movie pans out when it gets an official release. But that duck imagery certainly isn't going to be forgotten anytime soon.
Your Daily Blend of Entertainment News
Reality TV fan with a pinch of Disney fairy dust thrown in. Theme park junkie. If you've created a rom-com I've probably watched it.
Your Daily Blend of Entertainment News
Thank you for signing up to CinemaBlend. You will receive a verification email shortly.
There was a problem. Please refresh the page and try again.