Thandie Newton Has The Perfect Theory As To Why Han Solo Is A Better Pilot Than Luke Skywalker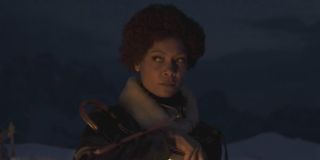 The Star Wars franchise is chock full of hotshot pilots. From Poe Dameron to Wedge Antilles, there's a different flying style for every fan taste. That said, arguably the two most iconic pilots in the series are Luke Skywalker and Han Solo. That raises the question of who the superior pilot truly is, and we recently posted that question to the cast of Solo: A Star Wars Story during the film's recent press day in Los Angeles. However, when we asked Val actress Thandie Newton to explain the differences, she gave a near-perfect answer about why Han's from-the-gut style beats Luke's far more disciplined approach. The Westworld actress explained:
That's pretty much a perfect encapsulation of what makes Han Solo and Luke Skywalker fundamentally different pilots in the Star Wars galaxy. Luke is arguably a far more disciplined pilot, and he lets The Force guide him. Meanwhile, Han Solo takes more risks and (often intentionally) puts himself in situations in which he's not sure if he will survive. Comparing the two styles side-by-side, Thandie Newton thinks that Han's method actually shows superior skill.
One other layer of this equation that feels worth exploring is the way in which Luke and Han work with others when they fly. Throughout the original trilogy, Luke was shown flying in teams as a member of Red Squadron (particularly in the Battle of Yavin and the Battle of Hoth), while Han (true to the origin of his name) was shown flying solo -- well, with Chewbacca in the co-pilot's seat, of course. Luke has the support of others around him, while Han has proven that he knows how to get by on his own.
Of course, if you want to hear everything that Thandie Newton had to say to CinemaBlend about the fundamental differences between Han Solo and Luke Skywalker, then make sure to take a look at a clip from our interview with her, below!
Now that Solo: A Star Wars Story is finally in theaters, audiences have a chance to see what kind of pilot young Han Solo is in his earliest adventures. On that note, make sure to take a look at CinemaBlend's full review of the most recent Star Wars franchise spinoff, and check the film out for yourself!
Originally from Connecticut, Conner grew up in San Diego and graduated from Chapman University in 2014. He now lives in Los Angeles working in and around the entertainment industry and can mostly be found binging horror movies and chugging coffee.
Your Daily Blend of Entertainment News
Thank you for signing up to CinemaBlend. You will receive a verification email shortly.
There was a problem. Please refresh the page and try again.