Kevin Smith Has One Big Criticism For Deadpool 2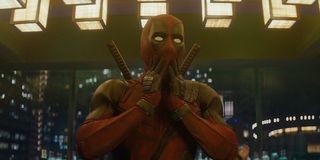 Warning: SPOILERS for Deadpool 2 are ahead!
When he's not directing or writing movies and TV shows, Kevin Smith can usually be found giving his two cents on geek culture on one of his many podcasts, particularly regarding the on-screen Marvel and DC worlds. Fortunately, there's been no shortage of discussion on those topics lately, and one of the many movies that opened last month was Deadpool 2. Reception towards the Merc with the Mouth's latest cinematic adventure has been largely positive, and Smith definitely finds himself in that camp. However, there was one aspect of the movie that filmmaker didn't particularly like: how Vanessa, Wade Wilson's love interest, was killed early on. As Smith explained:
Deadpool is primarily known for being ultra-violent, making ridiculous jokes and consistently breaking the fourth wall, but if you think about it, his first theatrical movie at its core was a love story, as Wade was driven to either return himself to normal so he could be with Vanessa again or to rescue her from Ajax's clutches. So the clever marketing presenting Deadpool as a romantic comedy actually wasn't too far off the mark. Deadpool 2, on the other hand, took Vanessa off the proverbial board early on when a criminal who escaped from Wade Wilson killed her, something that Kevin Smith didn't particularly care for.
Kevin Smith certainly isn't alone in not liking this element of Deadpool 2. Vanessa's death has been criticized for being another example of the frequently used plot device of injuring or killing off a female character solely to motivate a male character (known as "fridging"), though director David Leitch believes that it was necessary for Vanessa to die in order to humanize Wade Wilson. However, this was just one aspect of Deadpool 2, and as Smith also mentioned during his latest Fatman on Batman episode, he enjoyed Deadpool 2 as a whole, particularly once Cable entered the picture. In Smith's words:
Fortunately for Kevin Smith and everyone else who liked Wade Wilson and Vanessa's relationship, Deadpool 2 didn't mark the permanent end for these crazy kids. After Negasonic Teenage Warhead and Yukio fixed Cable's time traveling device, Wade went back in time to save Vanessa from being killed, as well as prevented Peter's death, killed his Weapon XI counterpart from X-Men Origins: Wolverine and murdered Ryan Reynolds before he could film Green Lantern. So now the couple is free to go about their lives and try starting that family they talked about, and presumably Vanessa needn't worry about traveling to the great beyond on screen ever again.
While there's no word yet on if Deadpool 3 will move forward, Wade Wilson will return with Cable and Domino in X-Force next, so perhaps Vanessa will be around for that story. In the meantime, you can keep up with what's in development for the X-Men movie franchise by checking out our handy guide.
Your Daily Blend of Entertainment News
Connoisseur of Marvel, DC, Star Wars, John Wick, MonsterVerse and Doctor Who lore. He's aware he looks like Harry Potter and Clark Kent.
Your Daily Blend of Entertainment News
Thank you for signing up to CinemaBlend. You will receive a verification email shortly.
There was a problem. Please refresh the page and try again.