What Deadpool 3 Should Do About Vanessa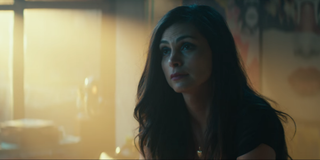 Warning: MASSIVE spoilers ahead for Deadpool 2! Don't read any further if you have not seen Wade Wilson's latest big screen adventure!
With Deadpool 2 now in theaters, the world of Wade Wilson (Ryan Reynolds) has changed quite a bit. No longer a solo act, the red-clad mercenary has found a new family in the form of X-Force, and new friends in the form of Cable (Josh Brolin) and Domino (Zazie Beetz). However, as the credits of Deadpool 2 clearly show, Ryan Reynolds' Wade goes back in time to save Vanessa (Morena Baccarin) before any of that can happen. It's a huge moment for the film, and we think the decision to undo Vanessa's untimely death could be a massive mistake on Deadpool 2's part, and future films will need to do something drastic to earn that decision, particularly as it relates to her villainous persona from the comics.
Right off the bat, it needs to be said that Deadpool 2 is largely a comedy for the bulk of its runtime. The film is chock full of hilarious moments, and it thrives on offbeat humor. Having said that, the film also maintains a rich emotional core built upon the foundation of Vanessa's death at the beginning of the movie. It's no secret that the Deadpool movies like to have fun by sullying dramatic moments with jokes, but Deadpool 2 very clearly wants us to care about the emotional stakes of Vanessa's death. With Wade's decision to save her in Deadpool 2's post-credits scene by using Cable's time travel technology to kill her attacker, the film essentially undoes some of its best dramatic beats.
Is there a way around this error? It's entirely possible. The key here is for future Deadpool-centric movies to not brush off the return of Vanessa in a way that makes Deadpool 2 feel inconsequential. If we have to push forward and continue with her survival as the new canon, then the X-Men franchise will need to establish consequences for Wade's action. One way would be for the film to turn her into her comic book alter ego, known as Copycat, and allow her to fully embrace the villainous persona that some fans expected to see in the original Deadpool.
For those of you who are less familiar with the character, Vanessa Carlysle a.k.a Copycat is a shapeshifting mutant with powers similar to Mystique. She has appeared as a member of X-Force at specific points in her run as a comic book character, but she has also appeared as a villain across numerous X-Men titles over the years as well. The creative team behind 2016's Deadpool has admitted that it initially wanted to bring Copycat into the fold in the burgeoning franchise's initial outing, but with Wade's decision to save her using time travel, this could be a perfect opportunity to shift her to a tragic villain figure for future outings.
Deadpool 2 is currently in theaters and has officially dethroned Avengers: Infinity War as the king of the weekend box office. Make sure to catch The Merc with the Mouth's highly-anticipated sequel on the big screen and take a glance at CinemaBlend's in-depth review of the film to get an in-depth look at our thoughts on the latest X-Men franchise entry!
This poll is no longer available.
Originally from Connecticut, Conner grew up in San Diego and graduated from Chapman University in 2014. He now lives in Los Angeles working in and around the entertainment industry and can mostly be found binging horror movies and chugging coffee.
Your Daily Blend of Entertainment News
Thank you for signing up to CinemaBlend. You will receive a verification email shortly.
There was a problem. Please refresh the page and try again.