Deadpool 2: What You Need To Know About Cable's Daughter From The Comics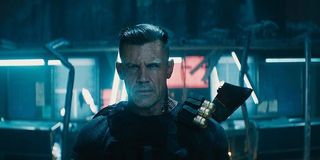 Warning: SPOILERS for Deadpool 2 are ahead!
While Deadpool 2 didn't delve too deeply into Cable's past, one thing the sequel made perfectly clear was why the character decided to travel back in time to the present day period. Despite the future being worse for wear, Cable was living happily with his wife and daughter, but then they were murdered by Russell Collins, a.k.a. Firefist. Driven to undo this horrendous act, Cable went back into the past to kill Russell as a child so that his family would be safe, but thanks to Deadpool's intervention, Russell ultimately rejected the villainous path. As proven by the burnt teddy bear Cable carried with him disappearing, his wife and daughter is alive again in the future, but one thing that folks unfamiliar with the comics might not have caught was the significance of Cable's daughter's name: Hope. While she was only a minor participant in Deadpool 2, Hope has been an especially important character in the X-Men mythology in the comics over the last decade.
2005 saw the release of the House of M event, where Scarlet Witch used her abilities to overwrite the main Marvel universe (a.k.a. Earth 616) with a new reality. At the end of the story, Wanda Maximoff returned the timeline back to normal, with one notable exception: all but 198 of the mutants lost their special abilities. Years later, the mutant population would be restored to something closer to its original numbers, but in the aftermath of this global de-powering, known as the Decimation, Hope was the first new mutant to be born, kicking off the Messiah Complex event, where numerous mutant groups were racing to find her first. In the end, Scott Summers, a.k.a. Cyclops, decided it would be best if his son Nathan, a.k.a. Cable, became her guardian and took her to the future.
Unfortunately, Cable had to contend with Bishop, who was determined to kill Hope to prevent the desolate future that he grew up in from ever happening. Fortunately, Cable kept her safe from this particular threat, but in the Marvel universe, there's no shortage of other troublesome events. To make a long story short, Cable and Hope have been through a lot together, but they had built a father-daughter relationship during their time together. Eventually the two of them made it back to the present day, but that hasn't stopped Hope (who's now a young adult) from being targeted. Arguably the biggest example of this is the Avengers vs. X-Men event, which began when the Phoenix Force came to Earth to possess Hope, thus triggering the conflict between the two superhero teams.
Aside from being the first mutant being born post-Decimation, some of you may be wondering what it is about Hope Summers that makes her so special. Simple: Hope is an Omega-level mutant, which is the best of the best. She is able to mimic the powers of any mutant near her to their full potential, and she can also activate the powers of a newly-emerging mutant. Even ignoring that period when she was possessed by the Phoenix, Hope is easily one of the most powerful mutants that's ever lived.
So what does all this mean for the X-Men movies? Well, as is obvious now, Hope in Deadpool 2 (played by Islie Hirvonen) is not a direct adaptation of the Hope from the comics. This version of her is Cable's biological daughter, and rather than being a Messianic mutant, from what little we saw of her, she was just a normal little girl living a normal life... well, as normal as possible in a future like that. Because of Russell's change of heart, Hope and her mother are still alive, although because Cable is stuck in the present, who knows if he'll ever be reunited with them. However, if Hope has access to the same kind of time travel technology that Cable used, then perhaps we might see an older version of her come to the present in a future movie, like X-Force. It's unlikely that this version of Hope would be nearly as powerful as her comic book counterpart, but whether she has cool mutant abilities or has been cybernetically enhanced like her dad, it would be cool to see her fighting bad guys by Cable's side.
Stay tuned to CinemaBlend for all the latest updates concerning the X-Men film franchise, and if you're interested in learning what movies are coming out later this year, browse through our 2018 release schedule.
Your Daily Blend of Entertainment News
Connoisseur of Marvel, DC, Star Wars, John Wick, MonsterVerse and Doctor Who lore. He's aware he looks like Harry Potter and Clark Kent.
Your Daily Blend of Entertainment News
Thank you for signing up to CinemaBlend. You will receive a verification email shortly.
There was a problem. Please refresh the page and try again.