Serenity Trailer: Matthew McConaughey And Anne Hathaway Reunite Onscreen For Tense New Movie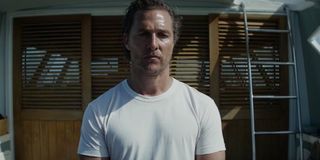 The last time Matthew McConaughey and Anne Hathaway shared the screen together was in 2014 when Christopher Nolan's Interstellar debuted in theaters. They worked well together then, and the science-fiction epic teased a hopeful romance between the two. Now things have changed considerably, as a tense trailer for their upcoming film Serenity (no, not Joss Whedon's Serenity) promises a far more violent and sinister story about a profoundly dark murder plot at sea. Check out the trailer, below.
Matthew McConaughey and Anne Hathaway definitely are not in space anymore, are they? The Serenity trailer keeps much of the plot under wraps (as all good thrillers should), but what we see promises a violent conspiracy between two deeply sinister individuals. We open on Baker (McConaughey), a stoic fishing captain and a man of few words who finds himself approached by his ex-wife Karen (Hathaway) in a bar one evening. The two clearly have a rocky history, and things quickly get complicated for Baker when Karen asks him to murder her current husband (Jason Clarke) and save her from a life of abuse. From there, elements of Baker's past begin to resurface, and the blood starts to spill.
Serenity definitely appears to be playing to the tropes of a genre that we don't often see anymore. Honoring a bygone era of thriller filmmaking, the movie looks like a classic neo-noir -- complete with elements of mystery, murder, and conspiracy in which none of the characters can fully trust each other. That said, the warm, island setting already makes Serenity feel like its own beast, so it will be interesting to see what secrets are waiting up the story's sleeve.
Anne Hathaway and Matthew McConaughey are clearly the stars of the show, but Serenity also stands out for how robust the supporting cast is as well. We have already mentioned Dawn of the Planet of the Apes' Jason Clarke (who looks absolutely menacing in this trailer), but Serenity has also enlisted the acting chops of seasoned Hollywood veterans like Man of Steel's Diane Lane (who reportedly replaced Uma Thurman in her role) and Captain Marvel's Djimon Hounsou to fill out its secondary roles as well. That is a fair number of actors who have been recognized at The Oscars (or at the very least been considered for Oscars) over the years, so we will have to wait and see what happens when they all come together.
Make sure to stay tuned for more CinemaBlend updates about Serenity as new information related to this project becomes available to us. The film is currently set to debut on October 19, so mark the date down on your calendars and check out our movie premiere guide to see what other notable films are going to premiere in 2018!
Originally from Connecticut, Conner grew up in San Diego and graduated from Chapman University in 2014. He now lives in Los Angeles working in and around the entertainment industry and can mostly be found binging horror movies and chugging coffee.
Your Daily Blend of Entertainment News
Thank you for signing up to CinemaBlend. You will receive a verification email shortly.
There was a problem. Please refresh the page and try again.