What Happened With Matt Damon's Ocean's 8 Cameo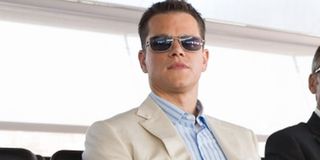 Some spoilers for Ocean's 8 can be found in this story!
For months leading up to the release of Ocean's 8, we knew several big details about the upcoming movie. The first was its all-female cast. The second was its plot, which was centered around a heist during the Met Gala. The third was that we knew cameos were supposed to happen, and one of them was supposed to have featured Matt Damon returning as Linus Caldwell. If you've seen the movie, you should know the cameo didn't happen onscreen, and recently director Gary Ross explained why the movie worked out the way it did. He said:
The reason we even knew about the Matt Damon cameo in the first place was because he spoke out about it months and months before the movie even hit theaters, noting he would be "doing a little bit" in the movie. Per what Gary Ross is saying, the cameo was supposed to be in the movie originally, but didn't end up making the final product for that nail in the coffin called "storytelling reasons." Likely, the movie was better in its final version without the fan service cameo, but it was still a bit of a bummer for audiences to go in and think something was going to happen that didn't.
Gary Ross also spoke out to THR a little more about the editorial process on Ocean's 8, noting that he made a lot changes in order to make sure he had a satisfying movie. He elaborated:
If you saw Ocean's 8, you should know there were some references to the original franchise that made it into the movie, as well as some big cameos. As for returning characters, we saw Elliott Gould make an appearance, as well as Shaobo Qin, who helped Debbie Ocean out with the theft of jewels at the Met that became the heist within the heist. As for celebrity cameos, during the Met Gala a lot of famous faces popped up, including Kim Kardashian West, Anna Wintour, Common, Katie Holmes, Olivia Munn, Heidi Klum and a slew of professional athletes, fashion designers and supermodels. Ocean's 8 is chock full of celebrity talent, if you head to the theater to catch it, but there's no Matt Damon in sight.
Matt Damon has been all over cameos for the last several months--and spoilers. He appears in the opening sequence for Thor: Raganork as part of a Loki and Thor play. He also recently had a cameo in Deadpool 2 playing a dude out in a field who has a run-in with Cable. If you missed that cameo, he was virtually unrecognizable, so you weren't the only one. If Damon had appeared in Ocean's 8 it would likely have been the icing on the cake on a cameo-filled year, but maybe we'll get to catch the moment on DVD eventually.
In the meantime, you you'll be able to next see Matt Damon in the upcoming Ford v. Ferrari movie, and you can see the ladies try their own hands at an Ocean's heist, in theaters now.
Your Daily Blend of Entertainment News
Reality TV fan with a pinch of Disney fairy dust thrown in. Theme park junkie. If you've created a rom-com I've probably watched it.
Your Daily Blend of Entertainment News
Thank you for signing up to CinemaBlend. You will receive a verification email shortly.
There was a problem. Please refresh the page and try again.