Ocean's 8: What We Know So Far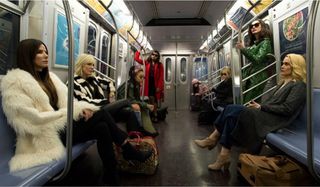 In 2001, director Steven Soderbergh helped re-introduce audiences to Danny Ocean and his lovable gang of criminals as they went through with a plan to rob multiple Las Vegas casinos in one night with his remake of the 1960 Rat Pack classic of the same name. The film went on to make more than $450 million worldwide and spur two sequels, resulting in the wildly popular Ocean's Trilogy. Well, anyone who's been missing the heist-based shenanigans of George Clooney, Matt Damon, Brad Pitt and their team of thieves in that series should be glad to know that a spinoff is coming to theaters next year
Titled Ocean's 8, this new film will focus on a heist team of eight women, who will be played by some of the most popular actresses working in film and television today. Now, we've assembled a handy guide to make sure you can stay up to date on all the important info about Ocean's 8. Let's start with what we've seen from the movie by way of the most recent trailer. Take a look:
Well, this certainly looks like the cool, funny, stylish Ocean's movie that we've come to expect. Now, read on to see what this new film has in store for us!
What Is The Ocean's 8 Release Date?
In October 2016, Warner Bros. announced that the highly anticipated spinoff Ocean's 8 had been given a summer 2018 release date; specifically June 8, 2018. Should that release date continue to hold (and there's no reason for it not to, considering that the film had finished principal photography and was officially in post-production by August of 2017), it will put the movie in direct competition with some other potential blockbusters that summer. June 15 will finally give audiences the long-awaited sequel The Incredibles 2, and June 22 will put Jurassic World: Fallen Kingdom in theaters. Clearly, the studio is hoping that Ocean's 8 will fill a very specific live-action/comedy void that will be left by these big films.
What Is The Ocean's 8 Rating?
Movies don't receive official ratings from the MPAA until a final cut of the film is available to screen. This means that we probably have to wait until sometime in May 2018 to find out what Ocean's 8 will be rated and why the film gets that rating, but, based on the other films in the series, we can make an educated guess as to what the outcome will be. Each film in the Ocean's Trilogy netted itself a PG-13 rating for some combination of language, sexual situations and sensuality, and it's likely that Ocean's 8 will have a similar tone to those films and shoot for the same rating.
What Is The Ocean's 8 Story?
Unlike its predecessors, Ocean's 8 is not planning to focus on Las Vegas casino capers or a stylish European jaunt. This time around, the story will follow our new crew of thieving anti-heroes in New York City as they construct a (I'm sure elaborate) scheme to pull off a major heist during the famed annual event, the Met Gala. The event is a yearly fundraiser for the Metropolitan Museum of Art's Costume Institute and marks the opening of each year's exhibit. Every year sees hundreds of celebrities and power players from several industries gather in their flashiest designer clothes and jewels to donate to the cause.
Until the trailer was released, we had no idea what the focus of the heist was going to be. Now, though, we know that Debbie Ocean and her crew will set their sights on the necklace that's going to be worn to the gala by Daphne Kluger (Anne Hathaway), which is worth $150 million. One of the big questions that's come up since the trailer came out is who, exactly, the eighth member of the crew will be. It was thought before that Hathaway's character was also a member, but since she's the one being robbed, Daphne will either be a very canny inside woman, or she's really just the mark and the final person on Debbie's team is being kept a big secret.
The Director
While the original Ocean's Trilogy films were all helmed by Steven Soderbergh, he won't be behind the camera this time. That job will instead go to writer/director/producer Gary Ross, who first came to prominence by writing and co-producing 1988's Big, and went on to direct big name films like Pleasantville, Seabiscuit and The Hunger Games, with his most recent directorial effort being Free State of Jones with Matthew McConaughey, which was released in 2016.
The Writers
Gary Ross also stepped up to the keyboard to help pen Ocean's 8, along with Olivia Milch, who wrote and directed the 2017 coming of age comedy Dude, starring Lucy Hale. Along with Big, Ross wrote Dave, The Tale of Despereaux, the 1994 Lassie remake and his films, The Hunger Games, Pleasantville, Free State of Jones and Seabiscuit.
Sandra Bullock
We might see a slightly harder edge from likable star Sandra Bullock than we're used to in Ocean's 8, as she'll be portraying Debbie Ocean, sister to George Clooney's Danny Ocean, and the heist-master who will decide to rob the Met Gala and assemble an all female crew to do it. Since we've never been introduced to any of these characters before, expect a large portion of the film to follow Bullock's character as she picks out her teammates and explains why she needs them, along with (possibly) letting us in on some Ocean family backstory.
When we're first introduced to Bullock's character, she's getting out on parole after spending about five years behind bars, though we don't know what got her locked up just yet. Additional information from the trailer tells us that Debbie plans this heist as a way to seek revenge on currently unknown parties. And, according to a brief scene in that same trailer, her estranged brother Danny has either died recently or is (more than likely) faking his own death.
Bullock's last big screen project was the 2015 flop Our Brand Is Crisis, so I'm sure she's hoping that a fun, star-powered ensemble like Ocean's 8 will be just the right thing to put her back on top at the box office.
Cate Blanchett
Two-time Oscar winner Cate Blanchett will be taking on the role of Lou in Ocean's 8, and, well, that's all we really know about her character at this point. It seems that Blanchett will fill the Brad Pitt role from the original Ocean's Trilogy of best friend and true partner-in-crime to Sandra Bullock's criminal mastermind Debbie, but there's no way to know for sure right now. And, seeing as how we don't even have a last name for Blanchett's character, it's possible that it might be some time until we find out what Lou's main part in the heist will ultimately be.
Blanchett has a number of films in the works right now, including voice parts in How to Train Your Dragon 3 and Jungle Book, as well as Where'd You Go, Bernadette and the fantasy The House with a Clock in its Walls. She was last seen as the villain Hela in Thor: Ragnarok, which hit theaters on November 3, 2017, and was hugely successful with critics and audiences alike.
Mindy Kaling
Actress and writer Mindy Kaling, who's best known for her work on The Office and The Mindy Project (which wrapped its six-season run in November 2017), is taking on the role of Amita in Ocean's 8. And, as it turns out, we've finally been given some insight into the special skill Amita possesses that leads Debbie to call on her. Apparently, Amita will be required to forge seven pieces of extravagant jewelry, something she says she can do in as little as five hours (providing the reward for this job will let her move out of her mom's place). Kaling will next be seen on the big screen in A Wrinkle in Time, which comes out March 9, 2018.
Anne Hathaway
Well, look at that. With Anne Hathaway's Ocean's 8 character we've finally hit on another one who actually has a full name, as she'll be playing Daphne Kluger in the film. Of course, being blessed with a surname doesn't really tell us anything about Daphne, and right now it looks like she'll simply be the woman with the super expensive necklace that Debbie wants to walk away with after hitting the Met Gala. It's possible that the revenge Debbie is looking for by pulling this job is because of something Daphne did to her, but that's just speculation.
Hathaway's last movie, the giant monster comedy Colossal was released early this year, and the actress has a full slate of projects coming up in the next couple of years. The Lifeboat, Serenity, O2, Nasty Women, Live Fast Die Hot and (possibly) the live action Barbie movie are all in various states of production with Hathaway attached to star in some capacity.
Sarah Paulson
Until the trailer was released, Sarah Paulson's Ocean's 8 character, Tammy, was basically a complete mystery with the exception of her name and the fact that she's a member of Debbie's gala thieving crew. Now we know that Tammy claims to have been out of the grifting game for a while when Debbie asks her to return for the Met job. This is contrary to the evidence found in her garage, though, which is packed with a suspicious number of (still boxed) household electronics. The actress has been racking up film credits since her 1994 appearance on Law & Order, but recently really made a name for herself via her work on several seasons of American Horror Story and her Emmy-winning role as Marcia Clark in 2016's American Crime Story.
Helena Bonham Carter
A film staple since the early '90s, actress Helena Bonham Carter will fill the role of Rose in the upcoming heist movie. It seems that Rose is a fledgling fashion designer, who, I'm guessing, will be needed to create gorgeous gowns for the women to wear during the gala. Bonham Carter has become known for some wild characters in recent years, with performances as Cinderella's Fairy Godmother and The Red Queen in Alice in Wonderland under her belt, so it's possible that she'll bring another crazy characterization to Ocean's 8. Bonham Carter has almost 100 credits to her name, including A Room with a View, Howards End, Fight Club, Big Fish, several Harry Potter films, The King's Speech (which saw her nominated for her second Oscar), Les Misérables and Burton and Taylor.
Rihanna
She may mainly be known as a singer, but Rihanna has been making strides in the past few years to become known as an actor as well, and I'm sure she's hoping her work as the tech-inclined Nine Ball in Ocean's 8 will help her continue to branch out. The eight-time Grammy winner has appeared in a handful of projects, including Battleship, This Is the End, the remake of Annie, Bates Motel and Valerian and the City of a Thousand Planets.
Awkwafina
If you're not familiar with the name Awkwafina, you're probably not alone. Born Nora Lum, she took on the stage name when she began rapping as a teenager and is now mostly known for her work in alternative hip hop and comedy, but she has been taking acting roles for a few years now. The Queens, NY native is playing pick-pocketing crew member Constance in Ocean's 8, adding that performance to her list of 10 credits, which include Neighbors 2: Sorority Rising and the upcoming film Crazy Rich Asians.
Returning Ocean's Trilogy Actors
Even though there are, obviously, many characters from the Ocean's Trilogy that could show up in the new film, we've only gotten confirmation that two recognizable faces from the franchise will show up in the next installment: Matt Damon and Carl Reiner. Matt Damon was the first returning actor to be announced, but right now we still don't know if he'll be reprising his role of expert pickpocket Linus Caldwell or playing someone else in the movie. Of course, since this is the same continuity of the previous films, it makes sense that Damon will, once again, bring Linus to life. This would seem to be even more likely, as Carl Reiner will, indeed, be reprising his role as old pro Saul Bloom in Ocean's 8. And, a recent interview given by Matt Damon seems to indicate that "a few" other members of the original Ocean's Trilogy will show up for the spinoff.
The Villain
Seeing as how most of Ocean's 8 is still a mystery, it should come as no surprise right now that we still don't know who the main antagonist will be when the film hits theaters. In December of 2016, it was reported that former Homeland and current Billions star Damian Lewis would be filling that role, as an ex-lover of Sandra Bullock's character. But, within a few months that report was refuted, and Lewis currently appears nowhere on the cast list. Someone who has popped up as a member of the cast, though, is Richard Armitage.
According to IMDB, Armitage is playing Claude Becker in the film, and while we don't know for sure that he will serve as an antagonist to Debbie Ocean's thieving crew, it does seem like a good bet. Armitage is known for playing a wide variety of tough guys in movies and on TV over the years, and his credits include MI-5, Captain America: The First Avenger, Strike Back, The Hobbit Trilogy, Hannibal, Alice Through the Looking Glass and Berlin Station. Whether Armitage is playing a bad guy in Ocean's 8 or not, he will certainly be fun to watch on screen.
The Other Characters
Seeing as how Ocean's 8 is a movie that will take place during a major, real-life event that is traditionally frequented by celebrities, there are a few who've signed on to the film and will either be playing themselves or characters created for the movie. The biggest news in this department is that, apparently, the entire Kardashian-Jenner clan will be showing up for cameos in the film. Along with that news comes the report that they will, somehow, be directly involved in the heist and that their appearances will hit pretty close to home, as jewel theft will be involved.
Other stars who've joined the project include late night talk show host (opens in new tab) James Corden, who will, reportedly, be playing a suspicious insurance investigator and have a pretty significant role. Dakota Fanning has been signed on to the movie for quite some time, but we have no idea who she's playing or how her character will fit into the plot. Katie Holmes filmed a cameo for Ocean's 8, but we, again, don't know if she's playing herself or not. Also, Olivia Munn recently spoke out about her cameo in the film, for which she got all dolled up for the movie's version of the Met Gala, only to be told that the money she spent on getting fancy wouldn't be reimbursed as she thought it would.
According to the cast list on IMDB, we can also expect appearances from model Adriana Lima, singer Zayn Malik, Vogue Editor-in-Chief Anna Wintour and fashion designer Zac Posen.