Why Incredibles 2 Is 2018's Best Superhero Movie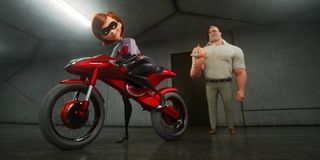 There has been no shortage of superhero movies in 2018, with films like Avengers: Infinity War and Deadpool 2 already showing that the genre arguably hasn't reached peak fatigue. However, amid all of the live-action superhero shenanigans that we have seen this year, it's an animated property that seems to have captured the beauty of the filmmaking style better than any other. That's right; I'm talking about Brad Bird's Incredibles 2, easily the best superhero movie of 2018 because of its ability to tap into what makes the genre so great.
Right off the bat, the first thing that I need to say about Incredibles 2 is the fact that it delivers some of the most inventive superpower sequences in recent memory. Except for Jack-Jack (who is a Swiss Army Knife of powers), every member of the Parr family has a specific set of talents. That said, even though everyone in the movie is limited to one or two abilities, Brad Bird and his team find an insane number of ways to convey their usefulness on the screen. Whether it's Violet (Sarah Vowell) using her forcefields to destroy falling debris mid-air, or Helen (Holly Hunter) using her elastic powers to turn into a parachute and slow down a runaway train, the film makes the most of the Incredibles' assorted powers and uses them in unexpected (and decidedly non-violent or gruesome) ways.
The same can also be said about the powers of the brand-new superheroes who enter the fray in Incredibles 2, as the film offers up one of the most unique world expansions seen in any recent superhero sequel. Introductions for characters like Voyd (Sophia Bush) and even Reflux (Paul Eiding) feel earned and streamlined, and the film makes incredibly smart choices that expand the Incredibles universe by examining the socio-political impact that characters like these would have. Everything about it feels organic and true to the nature of this world.
Warning: spoilers ahead for Incredibles 2! Read ahead at your own risk!
Speaking of socio-political impact, we've seen this type of conversation take place in superhero movies before. Sometimes it's to good effect (such as the Sokovia Accords in Captain America: Civil War) and sometimes to bad effect (such as the public hatred of Superman in Batman v Superman: Dawn of Justice), but Incredibles 2 arguably has all of them beat by offering several nuanced views of superhero adventures in a fictional world. We get compelling arguments from all sides, with Bob Parr (Craig T. Nelson) taking a vaguely libertarian notion that Supers should have the right to embrace their exceptionalism and help people. Meanwhile, Evelyn Deavor (Catherine Keener) provides similarly compelling argument that blind faith in unregulated vigilantes can cause more harm than good, with Elastigirl representing the middle ground between both ideas. Good superhero movies tend to deal with the concept of moral ambiguity, but Incredibles 2 takes it one step further by offering legitimately compelling arguments from every camp.
End of Incredibles 2 spoilers.
Finally, that brings us to the last element that makes Incredibles 2 so strong compared to other recent superhero movies: the creation of a world that feels colorful and fresh, while also nostalgic and familiar. There's something timeless about the world inhabited by the Parr family, and the world perfectly blends the universe seen in the Silver Age of comics with an old-school noir sensibility that's totally accessible for adults and children alike. In fact, I would even argue that Incredibles 2 offers up one of the coolest superhero landscapes seen on screen since the dark deco Gotham City created for the classic DC animation take on Batman: The Animated Series.
Franchises like X-Men, the Marvel Cinematic Universe, and the DCEU sometimes attempt to give us interesting visual environments, but Incredibles 2 creates the perfect metropolitan landscape for timeless heroes to exist in and thrive.
Of course, that's merely my take on the matter. What's yours? Let us know if you agree that Incredibles 2 is the best superhero movie of 2018 in the poll, below, and make sure to stay tuned for more updates related to the film as they become available to us!
Incredibles 2 is now in theaters and making a ton of money in the process. If you haven't already, check out our in-depth review of Brad Bird's hit Pixar sequel, and check out our handy To 3D guide to figure out which ticket is worth your money!
This poll is no longer available.
Your Daily Blend of Entertainment News
Originally from Connecticut, Conner grew up in San Diego and graduated from Chapman University in 2014. He now lives in Los Angeles working in and around the entertainment industry and can mostly be found binging horror movies and chugging coffee.
Your Daily Blend of Entertainment News
Thank you for signing up to CinemaBlend. You will receive a verification email shortly.
There was a problem. Please refresh the page and try again.