Classic DC Animation Makes The Batman V Superman Trailer So Much Cooler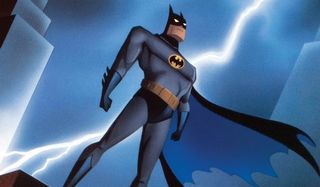 DC has always been one step ahead of Marvel in the animation department. This may be an unpopular opinion, but the Justice League and Batman animated series, even spin-offs like Young Justice, were top notch, and their straight-to-DVD releases are always highly anticipated events. So, perhaps, that teaser trailer for Batman v Superman could be just a little bit better if it were animated.
For the folks at JST Entertainment, a movie and multimedia production studio based in Oregon, that statement was true. They used the Batman v Superman footage as a template and then sprinkled in moments from the animated versions of Batman and Superman, as well as quotes from characters like Lex Luthor and Bruce Wayne's butler Alfred to spice things up a bit.
Ever since Warner Bros. released this first look at the superhero showdown, tech-savvy fans have been putting their own spins on the trailer. There was that retro trailer featuring footage of Adam West from the original Batman TV series and Christopher Reeve from the older Superman movies, as well as the Honest Trailer, poking fun at the layering of voices, and a LEGO reimagining. All are pretty impressive, considering how much time and effort it takes to put something like that together, and the animated version we see here joins the higher ranks of Internet stardom.
Following the events of Man of Steel, Batman v Superman: Dawn of Justice will handle the repercussions of Kal-El revealing himself to the world. Some will think him their savior, some a false God and some, like Luthor (played here by Jesse Eisenberg), will see him as a demon. All this chatter, which we hear in the first half of the official trailer, no doubt influence how Wayne see this figure. Seeing him more as a tyrannical space invader than a child of light, he suits up in a Power Suit to face off against the man who seemingly cannot bleed. Watch the original trailer below.
In addition to these two DC deities, Batman v Superman will also feature the likes of Amy Adams, Laurence Fishburne, Diane Lane, Jeremy Irons, Holly Hunter, as well as more heroes from the upcoming DC cinematic universe. Gal Gadot will make her first appearance as Diana Prince/Wonder Woman and Jason Momoa will appear as Arthur Curry/Aquaman, while folks like Ezra Miller (Barry Allen/The Flash) and Ray Fisher (Victor Stone/Cyborg) are rumored for the film.
Batman v Superman will hit theaters on March 25, 2016.
Your Daily Blend of Entertainment News
Thank you for signing up to CinemaBlend. You will receive a verification email shortly.
There was a problem. Please refresh the page and try again.