Brad Bird Helped Settle An Online Bet Between Pixar Fans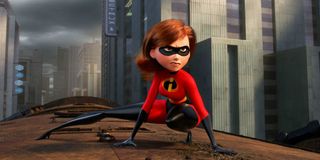 The Incredibles universe has become one of Pixar's most beloved fictional landscapes, but there are still many questions about this superhero realm that fans continue to debate. One such topic of conversation is the question of how the youngest member of the Parr family got his name, as some have assumed that Jack-Jack is a reference to the Kennedy family. Alas, Incredibles 2 director Brad Bird recently took to social media to shoot down that theory, saying:
So it turns out that Jack-Jack is not a reference to John F. Kennedy Jr. In actuality, the name has a far more personal connection for Brad Bird, as it comes from the nickname that he and his wife gave their middle child, who also happens to be named Jack. We're still not sure if the person who originally posed that question was the one who had bet that it was a reference to the late Kennedy, but whoever bet on it being true now owes the winner some money.
With all of that said, it's not entirely surprising to learn that some fans have taken to thinking that Jack-Jack's name is a reference to the son of John F. Kennedy. After all, the two Incredibles movies that have been released thus far DO take place in the 1960s, which means that it's possible that a fictionalized and animated version of JFK existed at some point on that timeline. Nevertheless, as Brad Bird's tweet bluntly laid out for the fans who posed the question to him, it doesn't change the fact that Jack-Jack was named for a reason that was far more personal to Bird's own life.
The increased emphasis on Jack-Jack as a topic of conversation among Incredibles fans makes quite a bit of sense when we consider his expanded role in the new movie. Though the infant was mostly used as a secondary character when he debuted in the first film, he has since gone on to achieve far more prominence as a member of the Parr family. Essentially used as a Swiss Army Knife of superpowers in Incredibles 2, the baby's increased screen time has largely been hailed as a triumph by many of the sequel's fans.
Now we are left to wonder if we will ever get an in-universe explanation for Jack-Jack's name. Incredibles 2 debuted to a massive box office haul and great reviews, so it's not entirely outside the realm of possibility to imagine that a third film could receive an announcement at some point. For now, however, we're left to come up with our own explanations as to why Bob and Helen decided to call their third child Jack-Jack.
Regardless of how Jack-Jack got his name in the Incredibles universe, audiences can check out his multitude of awesome powers in Incredibles 2, which is still in theaters. Beyond that, make sure to keep it here for more information about all of 2018's biggest movie release dates, and check out our comprehensive premiere guide to keep yourself in-the-loop on all of them!
Originally from Connecticut, Conner grew up in San Diego and graduated from Chapman University in 2014. He now lives in Los Angeles working in and around the entertainment industry and can mostly be found binging horror movies and chugging coffee.
Your Daily Blend of Entertainment News
Thank you for signing up to CinemaBlend. You will receive a verification email shortly.
There was a problem. Please refresh the page and try again.