Some Lunatic Edited A 10-Minute Montage Of Matthew McConaughey Making Noises On Screen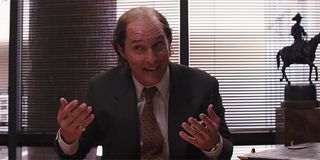 Every once in a while when you're watching a movie, you pick on something strange or interesting that stands out, and once you've noticed it, it becomes impossible to ignore. Then you discover that this is not some isolated incident, but part of a pattern, and you endeavor to see just how widespread the phenomenon is. I assume that must be what happened with the following video. Some lunatic, presumably driven by an insane urge, put together a 10-minute montage of Matthew McConaughey making noises on screen. This is crazy, mind numbing and hilarious, so strap in and watch some serious noisemaking from the Academy Award winner.
Wow, what an endurance test. Did you make it through the whole video? I can't believe I never noticed this before. I'm not sure if guttural utterances and goofy noises are just part of his normal personality or if Hollywood just knows that he is the go-to guy for that because there are so many ridiculous sounds in this video. I guess part of it is that he just plays weird, eccentric and outgoing characters. There are a lot of instances in this montage of him making the same noises in different roles too. This video also reminds me of how many terrible movies Matthew McConaughey was in before the McConaissance, although those movies provided plenty of fodder for this montage.
Matthew McConaughey has had a long career dating back to 1992 and he has 64 acting credits to his name, according to IMDb. If you carry the 1 on this 10 minute and 30 second video, that means that the actor averages 9.84 seconds of noisemaking per movie. I'm not sure if that is high or not, but the existence of this supercut leads me to believe it probably is. Granted, some movies in this video appear many times while others, like the actor's voice work in animated films, does not appear at all.
I completely forgot about it, but this video reminds me how much noise Matthew McConaughey's character makes in Reign of Fire. He sounds like he has a throat full of phlegm and he's breathing super heavy, very caveman-like. Also, the silly noise he makes when freaked out by women's hygiene products in How To Lose a Guy in 10 Days is pretty funny in its absurdity. For much of this video, I suspect many viewers were looking at Matthew McConaughey making noises similar to how Leonardo DiCaprio's Jordan Belfort was in The Wolf of Wall Street: with concern, confusion and curiosity.
This must have been a major undertaking, and I'm simultaneously concerned and impressed. Did the creator of this YouTube video watch Matthew McConaughey's entire filmography just to pick out each and every weird tick, laugh, grunt and any other noise the actor made just for this video? That's commitment. This fine work will be truly lasting too and will enjoy a legacy because no one who watches it will be able to watch another Matthew McConaughey performance without picking up on any and every excessive or weird sound his character makes.
You can next see Matthew McConaughey presumably making noises and raising a drug kingpin in White Boy Rick, in theaters on September 14. Take a look at all of this year's biggest movies in our release schedule, and for all future aids on the path to insanity, stay tuned to CinemaBlend.
Nick grew up in Maryland has degrees in Film Studies and Communications. His life goal is to walk the earth, meet people and get into adventures. He's also still looking for The Adventures of Pete and Pete season 3 on DVD if anyone has a lead.
Your Daily Blend of Entertainment News
Thank you for signing up to CinemaBlend. You will receive a verification email shortly.
There was a problem. Please refresh the page and try again.