Matthew McConaughey Delivers His 13 Life Lessons In Bizarre Commencement Speech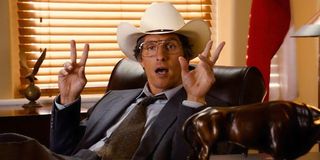 Matthew McConaughey stopped by University of Houston yesterday to deliver a commencement address to the university's graduating class. And the Oscar-winning actor did not disappoint (though the almost $140,000 he bagged for giving the commencement address better have guaranteed a good speech). The True Detective star spoke at the university's new football stadium sharing his own personal experiences as well as life advice in 13 key points.
As McConaughey spoke to the 40,000-seat stadium, he attempted to impart wisdom through a series of somewhat bizarre stories, but they came together to demonstrate what he called his '13 Life Lessons' (via The Hollywood Reporter):
Each piece of imparted wisdom usually had an anecdote to follow. For instance, number 3, "Happiness is Different Than Joy", McConaughey explained that once he started acting in films that brought him joy rather than happiness, he became more successful, earning more accolades, respect, and more box office success. Another example came from his breakout film, Dazed and Confused. Number 5, "Process of Elimination is the First Step to Our Identity", McConaughey explained as he recalled his signature three lines from the film, "alright, alright, alright" that as a young actor, he wanted more screen time, ignoring the fact that his character, Bill Wooderson, shouldn't have been in a few scenes.
McConaughey makes solid points in his speech, and though the delivery can be a bit bizarre at points, are we all that surprised? This is the same dude with a truly strange yet insightful Best Actor speech at the 2014 Academy Awards.
Overall, McConaughey may be a little wacky, but his journey to success is not one to be ignored. The man has truly worked hard to become the critically-acclaimed actor that he is today. And while is words of wisdom had quite the price tag attached, if I had Matthew McConaughey as my graduation commencement speaker, I sure would listen.
Your Daily Blend of Entertainment News
Your Daily Blend of Entertainment News
Thank you for signing up to CinemaBlend. You will receive a verification email shortly.
There was a problem. Please refresh the page and try again.